The road to Lismore from Bangalow is so notorious for its hairpin corners and the slow speed of the motorists in front that it was immortalised in a Midnight Oil song ("Not the Lismore road tonight"). But you don't have to travel far on it to get to Frida's Field, the farm restaurant that's shaking up the farm-to-table idea. Just 10 kilometres from Bangalow (and 23 kilometres from Byron Bay), there's a sign by the road, but you could miss it amid all this farmland.
It's all decidedly agricultural and seemingly far from trendier precincts nearby in Byron Bay or Newrybar; the only sound you'll hear out here is the occasional distant whine of a farmer's motorbike and the pervading smell is of cow manure. Yet this farm restaurant, named after the owners' beloved late pig, is where you're more likely to find a Hemsworth these days. This is the Byron Shire's new favourite foodie hangout, a place where farm-to-table has been replaced by a new concept: farm-to-farm. Patrons are served long-table style meals in an architecturally designed interpretation of a traditional farm shed, located on the site of the old piggery at this small-scale cattle farm.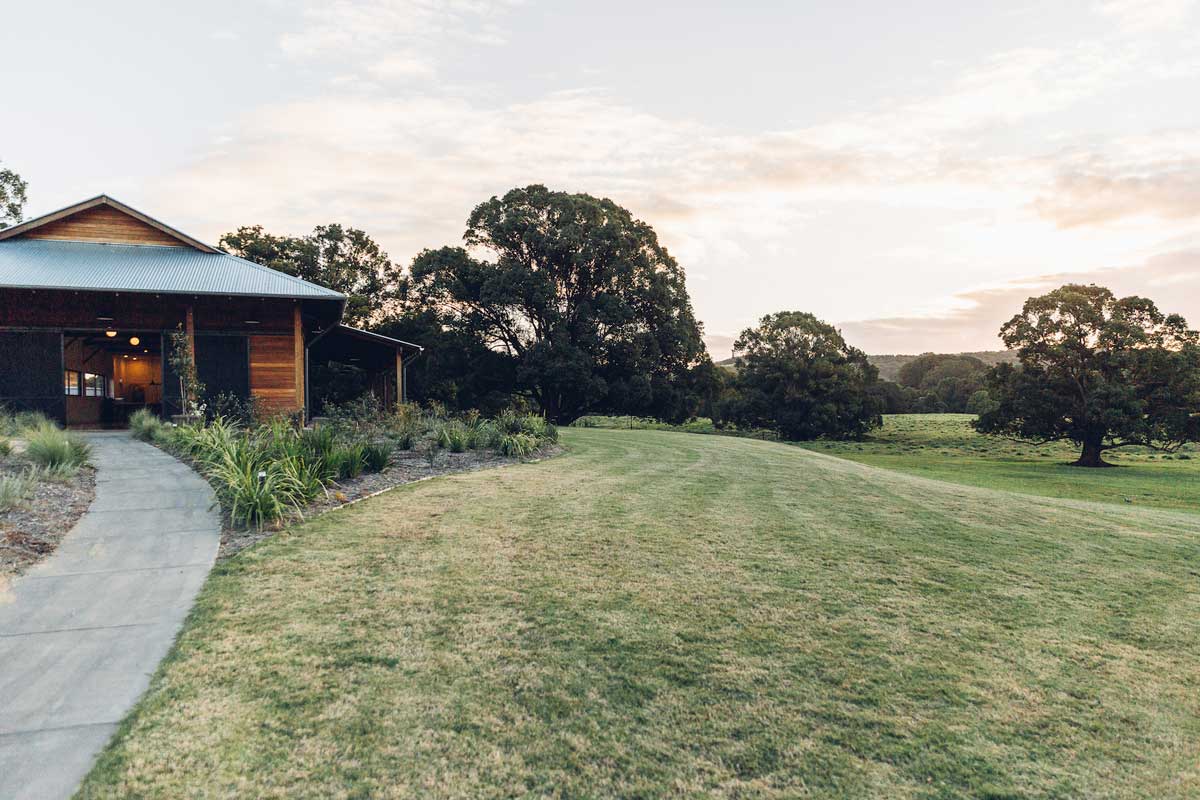 Owners Edward Rawlings and Jeanie Wylie purchased the century-old farm in 2015 and have introduced regenerative practices, opening the property to the public. Their intention is to offer diners the best of what they produce, along with the best of what their fellow farmers of the Byron Shire grow.
Daniel Medcalf, former sous chef at Bondi's Icebergs Dining Room & Bar, established Frida's Field using his extensive local networks. Now, former Qualia executive chef and three-time winner of the Australian Good Food Guide's Chef Hat Award Alastair Waddell has taken over the kitchen. "I've been fortunate enough to have worked at some beautiful restaurants and properties around the world," Waddell says, "but Frida's Field is unique. This was a great opportunity to create a truly unique dining experience."
From the dining room, Angus-Wagyu cattle can be seen roaming the farm — there are 50 on site, rotated across 16 lots, allowing the pastures to regenerate. Just behind the dining shed, Waddell picks turmeric, tomatoes and basil from a garden grown with syntropic agricultural methods, a cropping system that mimics the way wild forests work. Chooks wander off in the distance, while guinea fowls ­­— called Brett and Dennis — peck at the earth.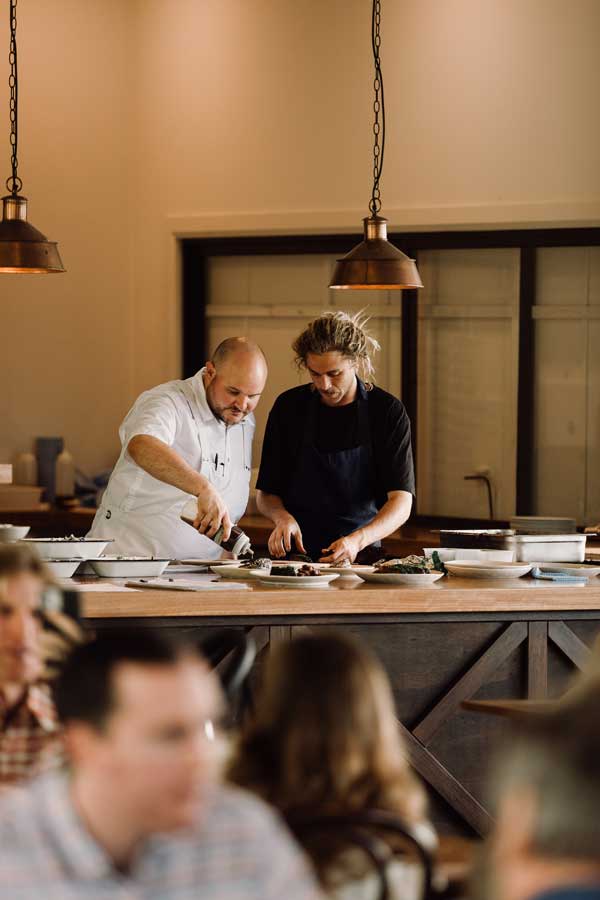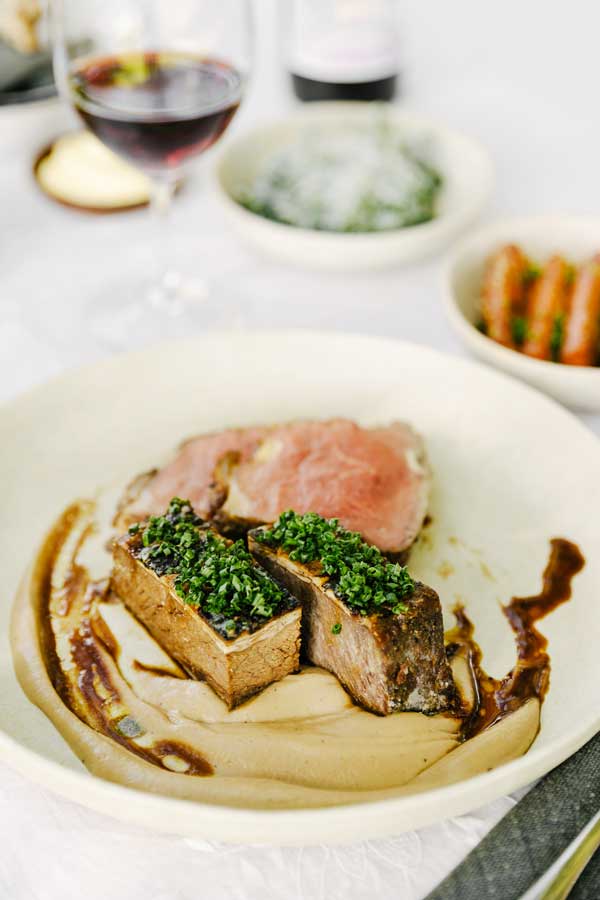 Lunch is a seasonal sharing menu — Waddell likes to change it up often. "Seasonality does drive our menu changes, but it's not as black and white as spring, summer, autumn, winter," he says. "We enjoy warm weather for much of the year, so lots of autumn and winter produce will arrive later here than down south. Some ingredients will only be at their peak for a few weeks, so we've committed to changing our menu every six to eight weeks."
Today, the hero of the meal is the main: woodfired local beef with roast cauliflower purée and seaweed vinaigrette. Starters include smoked ocean trout rillettes, sourdough croutons and chive vinaigrette, and chicken and duck leg terrine, sherry soaked prunes and pickled vegetables; finished off with a passionfruit and almond cake with fresh cream.
Diners are seated at long wooden tables set on polished concrete floors below cathedral-like rafters. Through the open sides there are views to a valley of mist and smoke from chimneys of neighbouring homesteads. Looking around, you'll see a combination of Byron chic and casually dressed locals. There are generous servings of the region's stock-standard calico and white linen worn by twentysomethings with practised pouts. But mostly locals are enamoured by the lack of pretence. There are plenty of diners in comfortable jeans simply here to eat beautifully fresh food in a welcoming setting; they're not here for their Instagram feed.
On March 25th, 26th and 27th, Frida's Field is hosting a nose-to-tail beef workshop run by Head Chef Alastair Waddell, three-time winner of the SMH Good Food Guide's One Hat Award, together with Frida's Field founders Edward Rawlings and Jeanie Wylie. The workshop will be followed by five-course nose-to-tail long lunch using Frida's own holistically-reared Angus-Wagyu beef.  For more information, see here.