Way back before motels and budget hotels, holidaying Australians would typically stay in a local pub, enduring basic facilities and shared bathrooms. Then, in the 1950s, the American-style motel exploded in towns and suburbs across the nation. With their midcentury-modern styling, neon signage and bold colour palettes, they offered a novel and affordable accommodation option for roaming Australians. Guests were introduced to the luxury of ensuite bathrooms, televisions, bar fridges and gimmicks such as coin-operated massage beds, luring open-minded adventurers. At a time of booming car ownership, the motel offered the chance to park the Holden right outside the room door ("motel" is a portmanteau of "motor" and "hotel").
Enthusiasm for motels was robust until the 1990s, when more affordable traditional hotels knocked the motel from its perch. Now, nearly a century after the first motel was built in the US, they're undergoing a resurgence in Australia as creative operators transform dilapidated properties around the country. The best of these renovated motels retain their midcentury architectural merits but have polished, modernised interiors with the comforts expected by today's travellers. Restored motels are also enticing the sustainability-conscious traveller in search of a simple, slow boutique holiday, for whom staying in a large chain hotel might not sit right. With motel renovators retaining the motels' original footprints and low-rise structures, they have minimal impact on their local environment.
As we begin to emerge from the global pandemic, the appeal of the "bubble" offered by self-contained motel units is likely to increase. (The world's first motel opened in California in 1925 just five years after the Spanish flu pandemic.) There are no communal lobbies, lift buttons or shared air-conditioning. Motels represent the ultimate social-distancing model while still being centrally located, having a manager on call and, often, with room service and on-site dining facilities.
Behind the breeze blocks, under the retro-font signage, motelgoers perhaps feel nostalgic for the seemingly carefree days of our past glimpsed through a pastel-hued lens and the gently swaying straw tassels of a poolside tiki umbrella. Consider a step back in time at one of these alluring, old-meets-new Australian motels.
Mysa Motel, Palm Beach, Gold Coast, Queensland
The Mysa Motel (pronounced "Mee-sa" ) is the former Palm Trees Motel in Palm Beach on the Gold Coast Highway, a 10-minute drive from Coolangatta and within walking distance of one of Queensland's cleanest white-sand beaches and a plethora of cafes and restaurants. Husband-and-wife team Eliza and Jason Raine spent two years breathing new life into the seven-room motel, installing solar panels and recycled materials including vintage breeze blocks and original fibreglass pool recliner chairs salvaged from a local building site and restored. The original kidney-shaped pool has been updated and filled with magnesium mineral water. You won't miss the pink sign with its neon palm trees, the work of a family that specialised in motel signage in the 1960s. themysamotel.com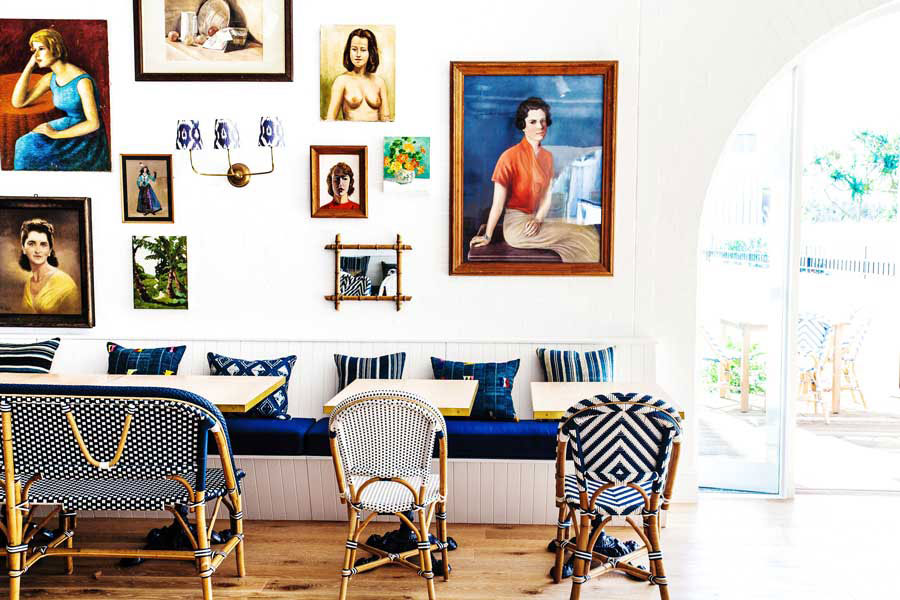 Halcyon House, Tweed Coast, New South Wales
The brainchild of some of the first visionaries of the motel revamp trend, Halcyon House opened in 2015. Brisbane-based sisters Siobhan and Elisha Bickle purchased the old surfing motel The Hideaway in 2011 and evolved the property into what is now known as one of Australia's prettiest boutique beachside stays, retaining its retro bones including 1960s Spanish-style archways. A 15-minute drive from Gold Coast Airport, Halcyon House has 21 individually decorated rooms adorned with fabric-upholstered walls, antique and vintage curios and eclectic artworks. Popular surfing breaks and coastal walks are within easy reach of the motel, although guests tend to linger at the multilevel day spa, pool and award-winning on-site restaurant Paper Daisy. halcyonhouse.com.au
Loea Boutique Hotel, Sunshine Coast, Queensland
Opposite the Maroochy River in Maroochydore, husband-and-wife operators Lucy and Andrew Pink have revitalised a 1980s brick motel into a bright boutique motel. The white palette is warmed by locally sourced rattan furniture and brass bathroom fixtures. Drinks and food platters made up of locally sourced treats can be ordered poolside from the vintage food truck. Guests can use the complimentary white cruisers to cycle the region, following the bank of the river to swim at the family-friendly beach at Cotton Tree, which hosts a market on Sundays. loea.com.au
Kyneton Springs Motel, Macedon Ranges, Victoria
Just an hour outside Melbourne, the historic Gold Rush town of Kyneton has become a creative hub for ex-city dwellers. Due to fully open by August, the 19-room Kyneton Springs Motel on Piper Street will be an ode to the classic California road trip. The 3.5-star restored motel will retain an authentically 1960s feel but with modern enhancements including Wi-Fi and breakfast. Expect a curated edit of 1960s artworks and a custom retro neon sign. The owners hope to offer travellers something different for a pit stop in this popular town, which is renowned for its hatted restaurants, vintage boutiques, art galleries and bars. kynetonspringsmotel.com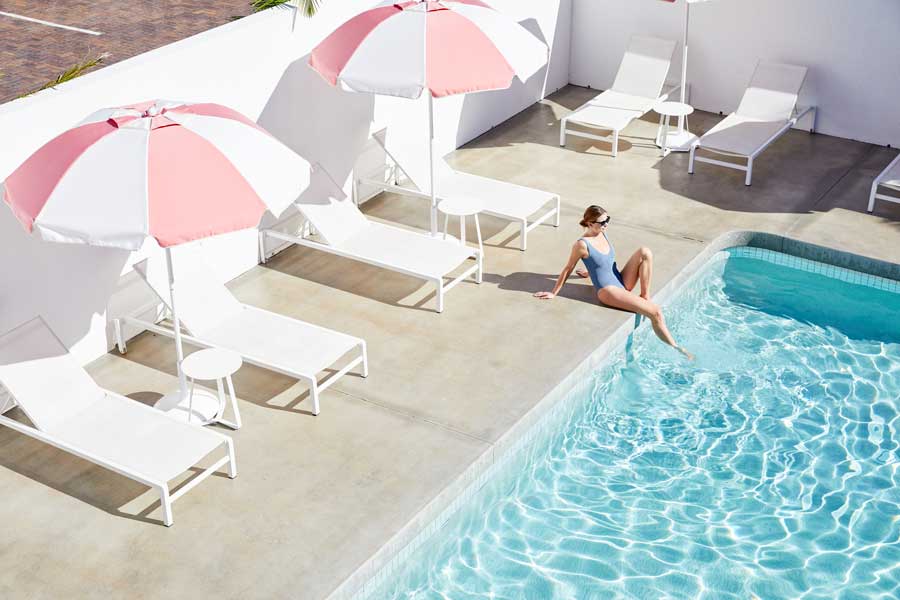 The Sails Motel & Pool Club, Brunswick Heads, New South Wales
The owners of the 22-room Sails Motel, Simon Johnson and Amanda Newman, set out with the goal of being sympathetic to the property's 1960s architecture and nostalgic charm, while adopting various eco-friendly initiatives. Ideally their guests will feel as if they are having the type of holiday they remember from when they were kids — only with better food and drinks. The owners collaborated with Old Maids Burger Store next door to open Saint Maries pizzeria and wine bar, which serves as the motel's restaurant. At the Pool Club, guests can sip fresh juice, coffee and cocktails. In this northern enclave of coastal cool, visitors can choose between the many nearby beaches, cafes, shops and classic pubs, and catching a show at the Brunswick Picture House is a must. thesailsmotel.com.au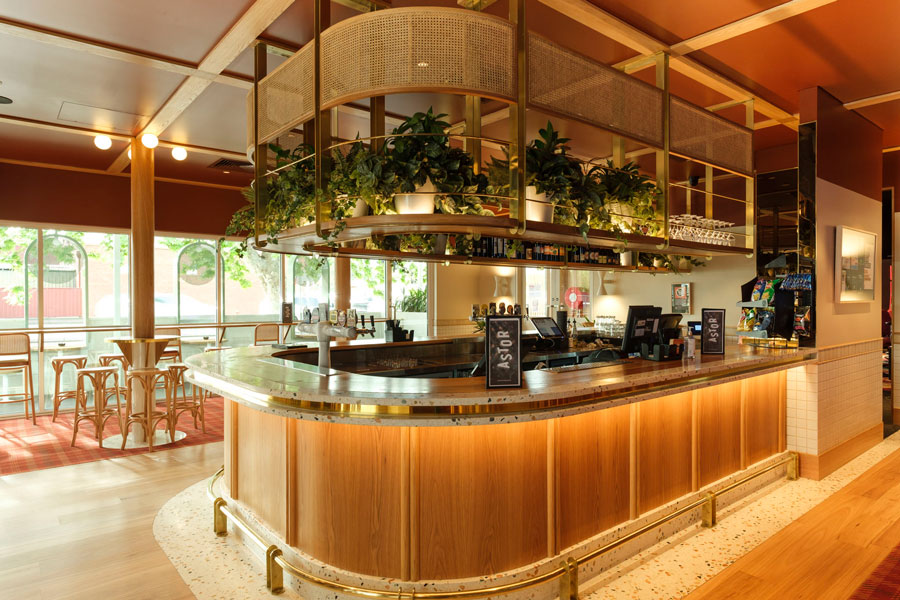 Astor Hotel Motel Albury, New South Wales
This 45-room motel has recently undergone a multimillion-dollar refurbishment to evoke a Palm Springs vibe in Albury. Orange, teal and pink wall panels provide a splash of colour to the 1960s facade, the three-star rooms have been modernised and the complex now includes a new contemporary bistro, bar and beer garden with a mix of palm trees, blond wood, custom terrazzo flooring, breeze blocks, brass fixtures and retro paper lanterns. astorhotelalbury.com.au