Like the wild Tuscan orchids that burst forth in shades of lemon and violet along the craggy coast of Italy's Argentario promontory, Marie-Louise Sciò's life comes into full bloom in spring. It's then that she prepares for the busy summer season at her family's three hotels, the Mezzatorre on the island of Ischia, La Posta Vecchia in Ladispoli and Il Pellicano, the legendary resort cradled in the volcanic rocks above the seaside town of Porto Ercole. Since 2011, Sciò has been not only the embodiment of these properties' glamorously Italian spirit but their creative director and C.E.O. Her father, Robert Sciò, bought Hotel Il Pellicano in 1979 from Patricia Graham, an American heiress, and her British husband, Michael, an ex-R.A.F. fighter pilot, who had built it in the mid-60s as a private villa and club. Its languid, sun-bleached charm was immortalised by the photographer Slim Aarons. These days, it is the 44-year-old Sciò who oversees its 47 rooms and two terrace restaurants. With an offhand manner that belies a great deal of preparation, she seamlessly coordinates each aspect of Il Pellicano. "It's all-consuming," she says, "but in an amazing way."
But when the frenzy of the summer season dies down, she heads to Rome, where she can recharge. Work continues, of course: In addition to planning the upcoming season at Il Pellicano and Mezzatorre, and running La Posta Vecchia, she has Issimo, her new lifestyle website that focuses on Italian-made fashion, food and design. Still, she savours her time in Rome, away from the seaside. "It's nice to be able to indulge in my private side," she says.
She bought the duplex apartment where she lives with her 18-year-old son, Umberto, only recently. In style it is a complete change from the flat she had rented for the previous eight years — a loftlike space in a 1950s building in Monteverde, just outside of the busy Trastevere neighbourhood. In a city of Renaissance edifices, the structure stood out for its brass-and-glass Modernist lobby and clean interior lines. Inside, she painted the apartment's walls and woodwork a celadon green, offsetting the black-and-white checkerboard marble floors.
Then, a couple of years ago, she found herself yearning to live closer to the Tiber River and a more central part of the city. Sciò, who trained in fine art and architecture at the Rhode Island School of Design, wanted to make a place of visual contradictions; a home where she could juxtapose '70s furnishings and a Pop Art palette against the classical proportions of an ancient building.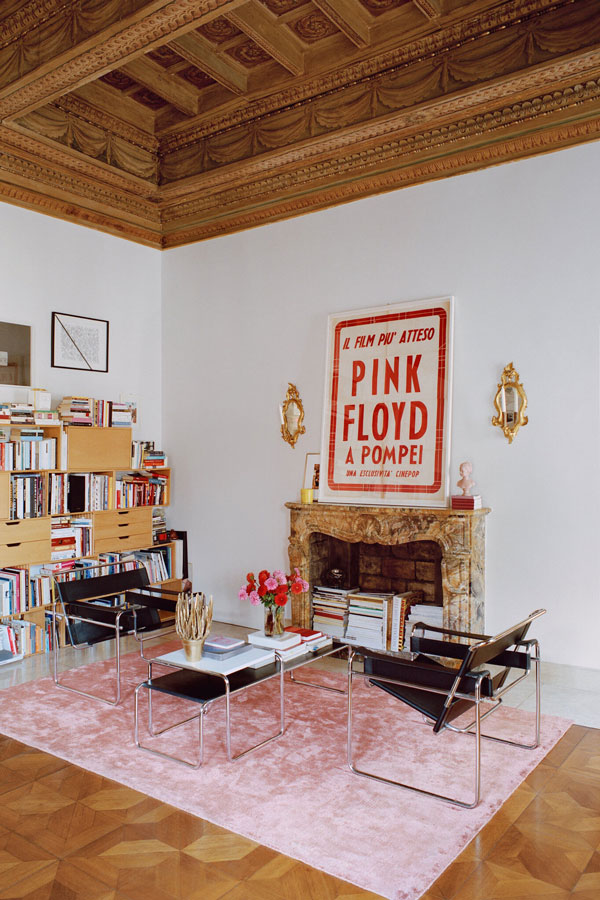 Her new apartment is in an enclave dominated by the imposing circular Castel Sant'Angelo, erected as a mausoleum circa AD130 by the emperor Hadrian. The 15th-century building retains many of its original details, including 13-foot painted coffered ceilings and elaborate parquet floors. The 15th-century building retains many of its original details, including four-metre painted coffered ceilings and elaborate parquet floors. But within her 344-square- metre space, Sciò has created an irreverent, rock'n'roll-infused refuge, albeit one punctuated with the work of design icons, including Gio Ponti, as well as antiques.
Instead of placing a coffee table next to the gray De Padova sofa in the living area — too conventional — she arranged small, stool-like tables by the founder of the '80s Memphis movement, Ettore Sottsass, atop a cylindrical Op Art Rotazioni plum-and-azure rug by the Spanish designer Patricia Urquiola for CC-Tapis. "You can sit on the stools or put your glass down, and you can move them around," Sciò says. "I didn't want anything static." Nearby are a pair of low black-and-white grid consoles by the 1960s Italian radical anti-architecture collective Superstudio — some of the few pieces of furniture the high-concept group actually produced; Sciò stacks her art books on them. On the wall behind a long wood Rimadesio dining table ringed with Gio Ponti 969 chairs — his 1969 reinterpretation of a 1930s design — hang some of her own paintings, as well as a Robert Rauschenberg print and a 1950s photo by Paolo Di Paolo of the artist Lucio Fontana and the actress Anna Magnani. In another corner, Louis XVI bergères upholstered in leopard-print velvet flank a crimson lacquer 1970s bar cabinet.
Sciò's love of music, in fact, informs much of her aesthetic. In addition to her other duties at the hotels, she programs their eclectic soundtracks (this past winter, she went deep into '70s Italian pop). Recently, holed up in the den downstairs — the apartment's lower level is divided into a series of cosy bedrooms that line a hallway painted a smoky indigo — she made a playlist of five songs each from every artist in the Rock & Roll Hall of Fame. Many nights, she puts on headphones and escapes there for hours. "I can go from FKA Twigs to Justin Bieber to John Cage. I like music that is in a way architectural, that has space," she says.
The pandemic has not soured her love for Rome; indeed, the isolation has rekindled her relationship with the city. Since fall, she's spent much of her time wandering through its narrow streets and dynamic ruins, now empty of crowds. "It's been Rome back to the Romans, which is the bright side of a terrible time," she says. "For once, you can meet your friends outside for cocktails in the Piazza Navona, and you remember why it's so good to be alive."
A version of this article appears in print in our second edition, Page 28 of T Australia with the headline:
Roman Holiday
Order a copy | Subscribe