The clean beauty industry is flourishing in Australia and our standards are high. Harvesting ingredients at their peak freshness is no longer just associated with food; increasingly, we're seeking out skincare products that contain "farm-fresh" ingredients carefully extracted in-house to maximise the effects of the formulations.
Such is our demand for cleaner beauty that the use of "organic additives" in Australian beauty products is expected to drive the industry from A$8.09bn in 2019 to A$9.87bn in 2024. While there is no set definition or industry standard for "clean" beauty in Australia, Emily Fletcher of the Clean + Conscious Beauty Awards says there has been a "consumer awakening" as people educate themselves about the safety of ingredients in skincare products. "When I first started the Awards two years ago, greenwashing was rife, and we found a lot of entrants didn't meet the incredibly high criteria we have to become a finalist," says Fletcher. "And what I found was the brands themselves didn't even realise that their products didn't truly have a non-toxic ingredients list."
But now, she says, both the brands and the Australian consumers are more discerning and unafraid to push for transparency from the products they use. This increase in knowledge and expectation has seen an impressive growth of brands entering the awards year on year. "We've expanded our Beauty & Body categories from just six categories to 43 categories in just two years," she says, "and that's because more consumers are seeking cleaner and more conscious beauty products, leading to our rapidly-growing true clean beauty industry here in Australia".
And while many big-name brands have clean product ranges, there has been a surge of small-batch Australian skincare brands saying no to toxic ingredients as well. Here are five of the best.
Edible Beauty
Naturopath and nutritionist Anna Mitsios first came up with her clean beauty brand concept while working in a Sydney Fertility clinic. Disillusioned with the lack of clean skincare options available to women who were pregnant or trying to conceive, Mitsios decided to create her own line of products. "When it comes to our formulas, we have an ultra-pure stance," says Mitsios. "Our products are blended with food-grade ingredients that are teeming with antioxidants and skin-transforming actions."
With ingredients like Kakadu plum, avocado oil and snowflower seed oils and other botanical extracts and wildcrafted Australian natives, the products are, in Mitsios' words, "so pure you could eat them".  The Edible Beauty range commits to being free from a long list of nasties, instead containing botanical extracts and Australian natives blended with food-grade ingredients.
The Native Plant-Based Collagen Powder is 100% vegan and works to naturally produce collagen production in the body. Meanwhile, the Beauty Reset Drops, made from the Ayurvedic Babchi plant and blended with Squalane, provide a natural alternative to retinol to smooth fine lines and create plump, dewy skin. Edible Beauty have also just launched their Natural Zero Waste Deodorant, with the formula taking over a year to perfect. ediblebeautyaustralia.com
Bush Medijina
Produced on Groote Eylandt Island in the Northern Territory, Bush Medijina is a collective governed by an all-female, Indigenous board. As co-founder and Warningakalina woman Serena Bara says, the idea for the business came when the group of local First Nation's women banded together to use their knowledge of bush medicine to create employment opportunities for themselves and future generations. "We didn't really think making bush medicine products would grow to be what the business is today," says Bara, "but our communities are dealing with sickness, domestic violence, chronic disease and other social problems, and we're strong women wanting to make a difference by ourselves, for ourselves and for our families".
Using traditional native Australian botanicals and the secrets of bush medicine, as taught to them by their mothers and grandmothers, they created a business that is now exporting internationally. Containing ingredients such as dumburumba (native sandalwood) and mamaburra (wild peach tree), the products are known for their soothing properties. Their award-winning Miracle Balm contains hand-picked merrika leaves (broad leaved wattle), blended with organic tea tree and coconut oils to create a soothing balm for dry or irritated skin, while the Bush Blossom Butter contains seasonal flowers mixed with sweet almond, lemongrass and sage essential oils. bushmedijina.com.au
Sharon McGlinchey had been told for years that creating her natural, petrochemical-free range was a bad idea. Then she was told her idea was "too niche" or "too hippie" to be successful. "The late 1990s was not an ideal time to launch," says McGlinchey. "All the natural beauty products on offer could be found on one shelf in the health food store."
Twenty years later, the award-winning brand has a cult following of high-profile clients, including Emma Watson, Rosie Huntington-Whiteley and Maggie Gyllenhaal. The key to her success, she says, is to offer quality holistic skincare and stay away from buzzwords. For example, McGlinchey refuses to use the term anti-ageing in her product descriptions. "I am, in fact, pro-ageing. I view growing older as a privilege and natural beauty as more than just swapping out toxic ingredients for safer alternatives. It's a paradigm shift in the way we view skincare as self-care," she explains.
Her Rose Plus formulation, a rich yet dewy moisturiser made from Bulgarian Damask Rose mixed with Jojoba and Rosehip oil, is one of the brand's most beloved products. Another standout is the newly released Native Power Serum. The product has been a long time in development and is what McGlinchey describes as a "hero serum", packed with antioxidants. Deeply hydrating but without residue, it contains vitamin C from the Kakadu Plum and natural fatty acids from the Quandong, otherwise known as the Desert Peach. mvskintherapy.com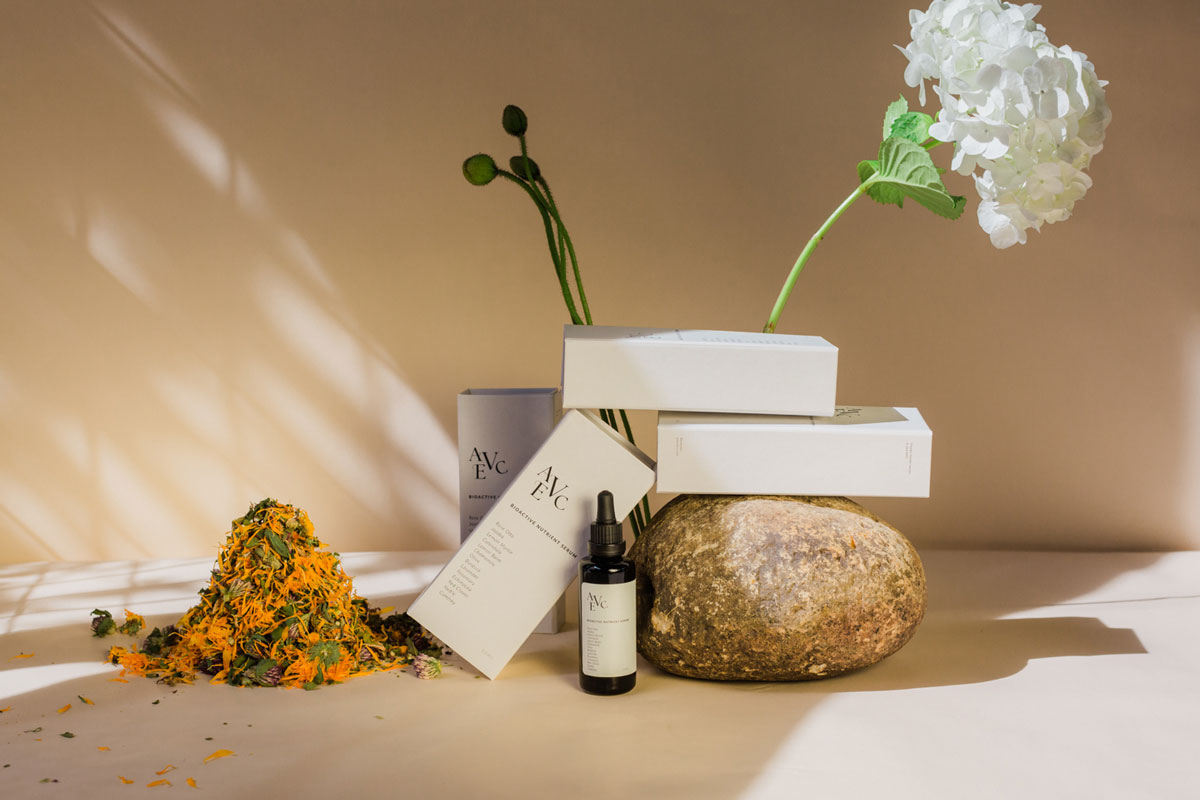 Avec Skin
Originally from Chicago, Jennifer Plahm first discovered small-batch skincare production and herbalism while living and working in the Rocky Mountains. Now settled in the Gold Coast hinterland, she has just launched her own farm-to-skin brand Avec Skin, with an aim to produce as clean beauty products as possible. "Clean beauty to me means being absolutely transparent with all your ingredients, how they were sourced when the plant was harvested, who grew it and what the environment was like," she explains. "Fewer and better products – I don't believe in selling a shelf full of products, just a few that actually work."
Plahm works directly with small, organic, sustainable farmers from around Australia to harvest fresh ingredients. "Our suppliers use sustainable practices, and each ingredient is harvested at its peak freshness," she explains. "Our farmers even press oils and grow herbs specifically for us."
The Avec range's hero product, the Bioactive Nutrient Serum, targets the skin's surface to even the skin tone and encourage a glowing complexion. The serum is packed with 14 vitamin and mineral-rich botanicals, including jojoba, calendula, and rose otto oil. A percentage of all purchases is donated to Safe Steps, a support service for anyone in Victoria who's experiencing family violence. avecskin.com
Dope Skin Co
Sydney-based couple Adam Alcott and Vanessa Ware originally launched their brand, Dope Skin Co. because they wanted clean skincare products for their own use. "We were parents to three kids under five and needed products to nourish and rejuvenate!" laughs Ware.  After their family and friends started asking for the products, the couple began researching botanicals and super-food oils and discovered hemp, which is, as Ware puts it, "nature's most perfectly balanced super-plant". Consulting with cosmetic chemists, the couple saw the potential in combining the anti-inflammatory ingredients of hemp seed extract with other naturally nourishing ingredients like rosehip, Kakadu plum or pomegranate extract.
"Testing formulations is a love hate relationship, but testing various ingredients and formulations is a part of the fun, we want our products to be perfect and effective as possible to make sure our customers are left feeling good about themselves," she explains.
Dope Skin Co source their product from an organic hemp farm in Victoria, all extractions done in-house to ensure the botanicals are as fresh, active and clean as possible. Their formulations are free from parabens, phthalates, silicones, and sulphates; however, they contain less than 1% preservative, which lengthens the shelf life. The Antioxidant Botanical Facial Serum is packed with plant-based antioxidants and Hyaluronic acid and is one of the company's best sellers. Meanwhile, the Antioxidant Acai Clay Mask infuses green tea and aloe vera extracts with hemp and Vitamin E to improve skin elasticity. Since the launch, sales have grown more than 100% year on year, and the company is now gearing up to hit the US market. "We've just recently been stocked by Urban Outfitters in the US and Canada," Ware explains, "so this feels like the perfect time to launch the brand there." dopeskin.co