Turning off the bustling shopping thoroughfare that is Milan's Via Torino, where clanging trams zoom past chain stores such as Zara and Sephora, and onto Via Nerino, with its stately gray stone buildings that keep the narrow lane in shadow, is akin to stepping into an alternate world.
Still, the first street marks the southern border of the city's historic Cinque Vie neighborhood, which is built atop the even older remains of an ancient Roman settlement, and is home to a thriving network of galleries and artisan workshops. Among them, behind an inconspicuous carved wood door on Via Nerino, is the atelier of Laboratorio Paravicini, the hand-painted ceramics line that Costanza Paravicini founded in 1995, and now runs with two of her children, Benedetta and Margherita Medici Di Marignano.
The brand inhabits a series of former storerooms that have been converted to pottery-painting studios and showrooms, and sit toward the back of the complex. The rooms look out onto an inner courtyard accented with potted palms and curling vines.
Inside, they are lush with wares: Laid on shelves and tables and hung on walls are rows of elaborately hand-decorated dishes that depict everything from blue larkspurs and dark pink carnations complete with hovering insects to chinoiserie-style forest scenes to grinning trapeze artists to hot-air balloons that look as if they might float right off the plate's surface. There is also a wealth of more abstract motifs — with its blue and red florals set against a geometric background, the brand's Izmir collection references traditional Turkish pottery, while its Gymmetria one makes use of an Art Deco-style illustration that looks as if it's been fragmented by a kaleidoscope. If the plates feel romantically old-fashioned, so, too, does the manner by which they came to be.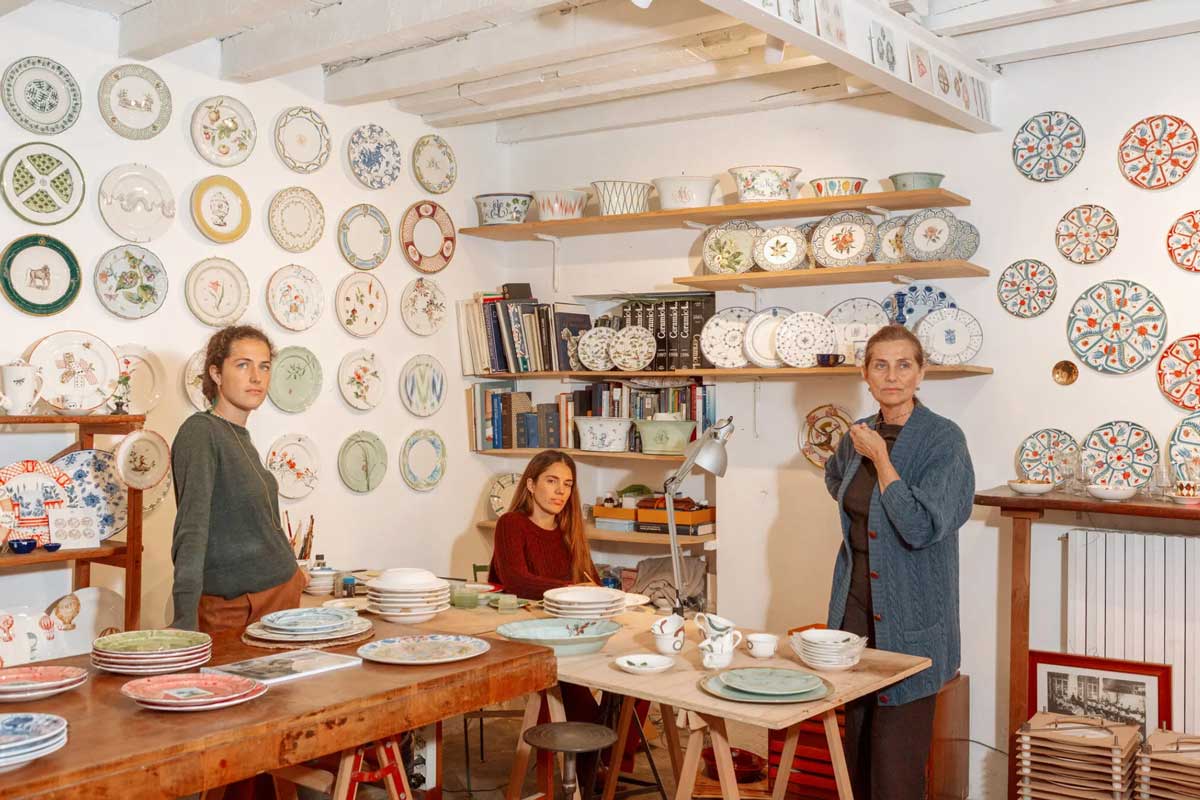 Paravicini, 61, who grew up in the three-story building and still lives on its attic level, was interested in drawing and painting even as a child. "I always had a pencil in my hand," she says. After studying at Milan's Istituto Orsoline di San Carlo in the late 1970s, she worked as a freelance illustrator at a graphic design studio and drew cartoons for small trade magazines. With four young children in the house, though, finding the time and space to work was a challenge.
So she decided to seek out a place where she could illustrate in peace and, she says, "leave my brushes and colours around." She asked her elder sister, Benedetta Paravicini, who was also artistically inclined, if she wanted to share a rented studio with her, "But she said, 'Why don't we do ceramics instead?'" It made sense to Costanza, who, given the minimalist-leaning preferences of the day, had had trouble finding tableware that suited her own more maximalist and nostalgic taste.
"If you were looking to buy something white, you had a world of options," she says. "But for something decorated, it was — and still is — difficult to find something you really love."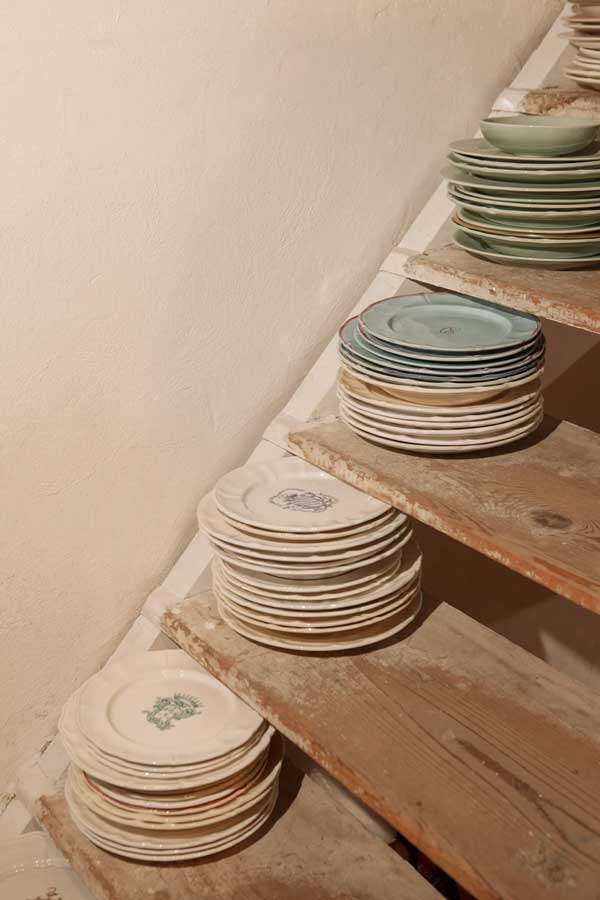 The sisters' early pieces were inspired by the sort of 18th-century ones produced by companies like the Florence-based Richard Ginori, now called Ginori 1735, and Milan's Manifattura Felice Clerici, founded in 1756, whose intricately illustrated scenes were inspired, in turn, by porcelain from China and Japan. In time, though, the Paravicinis created original patterns. Their first studio was a rented garage, and it was there that they practiced their skills until they felt confident enough to present their wares to the public.
In 1995, they took a booth at the Artigianato e Palazzo craft fair in Florence and caught the attention of Sue Fisher King, whose namesake San Francisco-based boutique introduced the brand in the United States, which is still its largest market. "In Italy, everyone already has painted ceramics passed down from their grandmother," Costanza says. "They're not really looking for something new to buy."
When Benedetta died in 1997, Costanza partnered with her good friend Aline Calvi and, shortly after Calvi retired in 2014, the younger Benedetta, now 38, and Margherita, now 36, joined the company to help with sales and marketing. "We all get along very well. We talk a lot — maybe too much," says Benedetta of the family collaboration. "But we understand each other immediately."
New collections, she says, are born after a lengthy process of collaborative decision-making and, since she and her sister came onboard, some of them have felt more contemporary — see 2017's Zodiac collection, with one plate for each astrological sign. (Gemini features a pair of dancing cherubs, and Taurus a charging bull.)
Paravicini also attributes recent growth to her daughters. "At the beginning, it was just word of mouth," she says. "But after they made the website and Instagram, we really started to move." Now, they have 12 employees who work between the painting studio and the office, and boxes ready to be shipped out to clients are stacked to shoulder height.
Granted, the notion of artisanal entrepreneurship was not unfamiliar to the family. Costanza's father, Ludovico Paravicini, inherited his father's manufacturing company, which produced reel-making machines. On the weekends, though, he was an accomplished woodworker, building furniture and objects for the family in his home workshop. Then he started another venture.
On his and Costanza's mother's honeymoon to Sri Lanka in 1956, he'd picked up an assortment of semiprecious stones, which he'd brought back to Milan to carve into ashtrays and bracelets. Eventually, what started as a solo operation with a single carving wheel in the same courtyard that Laboratorio Paravicini now looks out on evolved into a 70-strong atelier on the outskirts of the city making stone objects and jewellery for luxury brands like Chaumet and Dior.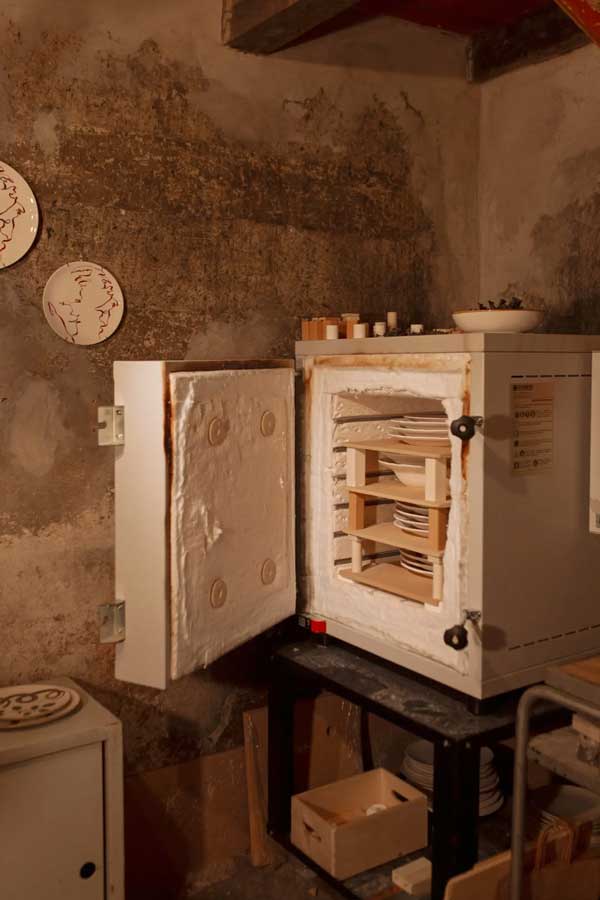 Still, as someone who can spend up to 10 hours on a single piece, Costanza is not overly concerned with scale. She starts with a plate in biscuit form, meaning it's been fired in the kiln but remains unglazed, and paints onto it using a powdered pigment she mixes with water. "Painting directly onto the biscuit, before the piece is glazed, is harder since the surface isn't smooth," she explains, "but it ensures that the plates can be for everyday use and are dishwasher-safe."
This differentiates Paravicini's work from many other high-end, hand-decorated ceramics, and requires her to be that much more precise in her technique, which she likens to painting with watercolors — the porous unglazed clay acts almost like a sponge, soaking up paint and distorting lines drawn by uninitiated hands. Once decorated, each plate is then dipped into glaze, which slightly deteriorates the illustration, but also imbues it with a quality of chance and imperfection that Paravicini finds alluring. "It gives it a special kind of charm," she says.
Plenty of others agree. Last fall, at Milan's Salone del Mobile, the brand presented a collaboration done with the New York-based jewelry brand Foundrae that consisted of miniature plates decorated with esoteric symbols (a lion, a compass, a pyramid) representing ideas like strength, karma and protection. This year, the women plan to publish a book detailing Laboratorio Paravicini's history, and to launch a new collaboration with fellow Milanese brand Lisa Corti.
The majority of business, however, comes from commissions. When I visit the studio, Paravicini shows me a set she's designing for an avid fox hunter — 11 plates illustrated with beagles pouncing over or through a monogram made of looping green letters, and a 12th adorned with a single fox.
She enjoys working directly with clients, which pushes her imaginative boundaries, though the exchange goes both ways. "They often come in with a strong idea of what they would like, and leave wanting something entirely different," she says. "Sometimes, I feel like a psychologist."
This prompts me to ask about the dishes she herself prefers. She pauses and laughs, saying that, despite the colourful mountains of plates that surround us, she uses a plain set with a solid green glaze at home. "It's crazy, but I never have time to paint for myself," she says. "After all these years, I'm still waiting to have my own."