When chef Colin Wood was busily dishing out polished plates at some of New York's most respected restaurants, he might not have guessed he'd soon find himself back in his home city of Perth, willingly elbow-deep in milk curd. Wood was one of a growing number of Australian chefs in New York making their mark on the culinary culture of one of the world's gastronomic centres; in his case, as culinary director for It-chef Ignacio Mattos at his dining hotspots Estela, Flora Bar and Café Altro Paradiso. Last year, Wood left the city for a job in Melbourne, where he'd previously spent over a decade working with Andrew McConnell, one of the city's seminal chefs, and with chefs Matt Stone and Jo Barret at Oakridge Winery. But when coronavirus arrived, he and his wife wound up contained to his Mum's Perth home with nothing but time.
Not one to remain idle, Wood dove into a craft he'd spent the past fifteen years exploring, but never mastering: cheesemaking. Using single-herd Guernsey cow milk from a small farm just outside the city, Wood started making fresh fromage blanc, ricotta and halloumi, and a list of other products that see every last scour of milk utilised. It's a culmination of sorts, and a relaunch pad. Wood doesn't like waste. He's spent much of his career trying to improve the sustainability of kitchens he's graced – not always an easy feat. Returning home became an opportunity to recharge that purpose through cheese.
Wood's life as a chef is born less from a love of food than from an infatuation with high-stakes environments. It's a love derived from his time as an elite gymnast from age four until sixteen, when Wood's Olympic dreams were abruptly shattered by a serious back injury. "I didn't know what I wanted to do in life," Wood says. "I was lost." A lucky stroke landed him an opportunity to work with a friend's chef brother. "I walked into the kitchen and the loudness, the discipline, the pace, the focus, the team – it was so familiar. That was it. It wasn't about a love of food."
When Wood was training at the Western Australian Institute of Sport, sometimes six hours a day with school in between, food was nothing but fuel. "I kind of resented food if anything," he says. "It was all about the environment. The pursuit of excellence in kitchens always resonated with me." But as his career progressed, Wood sought to make food with more feeling. His first major job was at McConnell's pioneering Cumulus Inc., a farm-to-table all-day diner. It was there, in 2008, Wood started to think closely about where produce came from and how to use it properly.
Not long after, Wood first began experimenting with cheesemaking, through which he'd become invested in learning a zero-waste, sustainable approach to food. After a decade with McConnell, Wood took a position as co-head chef at Mattos' incoming Upper East Side restaurant Flora Bar and, while waiting for his US visa, he spent six months establishing an in-house cheese program at Oakridge. Stone had located a small biodynamic dairy farm a short drive from the restaurant; it ticked all the boxes for truly good cheese. Experimenting with fresh and aged styles, Wood was dismayed with how much of the milk went to waste (around fifty per cent, he says), and started exploring uses for whey, the by-product of cheesemaking. Today, Wood's process utilises 100 per cent of the milk with which it begins.
It wasn't necessarily New York's frenetic pace that prompted Wood's return to Australia, but he was opting for a greater intentionality of sorts. "New York is such a competitively-paced city that if you sleep, someone is going to get in front of you," he says. "That pushes you forward, but your inspiration and creativity come in decompressing from the day, not mid-service." And the busyness of Mattos' restaurants – though they had a strong sustainable ethos – also made it near-impossible to embody zero-waste principles in such a complex supply chain. "We worked hard on sustainability initiatives there," Wood says. "A lot of good stuff is happening in New York, but it can be really difficult to see the wider impact – and a lot of it is just buzzwords and bullshit."
For Wood, returning home and reconnecting with his roots has been an emotional balm for the wounds of a time spent in high-velocity kitchens; a chance to flush the system. He found himself looking back on Friday lunches at his grandmother's house, when she'd cook dishes full of love with produce from her garden. "The restaurant scene is really built on capitalism," he says. "But food is really about nourishment and caring for people." Here, at the intersect of his deep-seated discipline and passion for communicating care through food, lies Wood's true gift.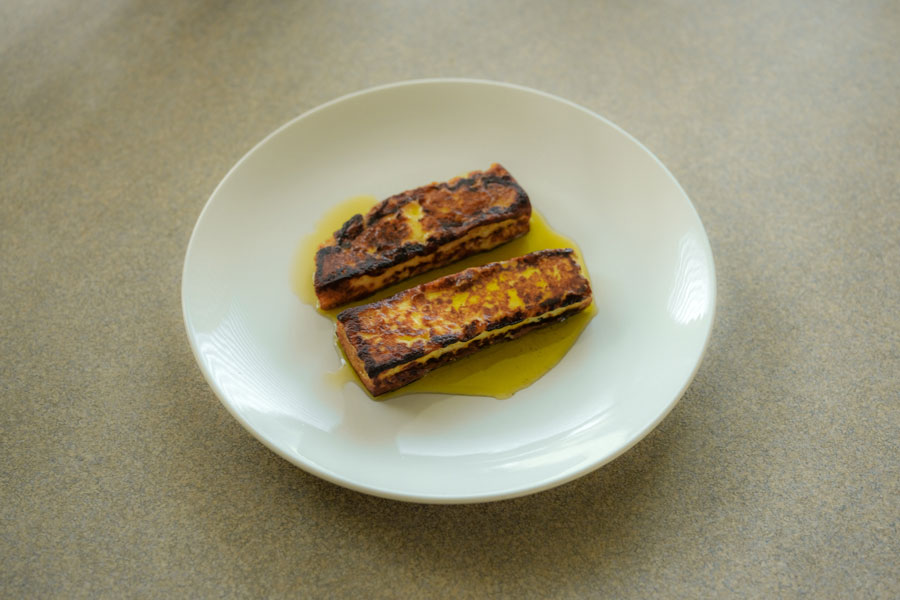 In being forced to slow – first by the pandemic and then by a knee injury that prevented him from working – Wood's passion for positive change in the food industry has deepened, and cheesemaking became his medium. "I've been more inspired to educate people here about doing the right thing," Wood says. On Instagram, he meticulously documents his dairy exploits and shares an uber-honest dialogue about his own learning journey. "I have a long way to go, but I am committed to being better, to confronting and trying to solve problems," he says.
Soon, he'll be back in a kitchen somewhere, putting those lessons on plates. Physically, he says, he's slowed down – but his purpose as a chef has intensified. He's hungrier than a sixteen-year-old gymnast, and even more determined. "We left New York because we wanted to regain control over our lives," Wood says. "I am cautious of going back to big hospitality groups where it's so hard to enact and see change. If I can start somewhere small and grow with people that care about sustainability, including how this industry treats those within it, that's a step in the right direction."