The lowdown:
In 1969, somewhere between the Manson murders and the premiere of Sesame Street, Zenith released a watch with the first fumé dial. Rather than sticking to a monotone colour, this dial had a gradient effect with its pale grey tone slowly darkening as it bled towards the circumference.  But it was what lurked beneath the bonnet of the Zenith El Primero A385 that was truly special.
The watch was powered by a ground-breaking caliber known as the El Primero, the first automatic chronograph movement. To deliver greater accuracy, it beat at a frequency of 36,000 vibrations per hour – most watches were between 18,000 and 22,00 vph – and boasted a 50-hour power reserve.  Better still, measuring just 6.5mm in height and 29 mm in diameter, it managed to do all this on a sufficiently compact scale to still slip effortlessly inside a tailored shirt cuff.
Suffice to say, in watchmaking this was a very big deal. Almost 20 years later, for example, Rolex still chose to use a modified version of this movement in its Daytona range. Now Zenith have opted to revive one of the three 1969 models that they used to launch this iconic movement.
The hardware:
Technical context aside, the good news is that it's easy to appreciate the Zenith Chronomaster Revival A385 purely on face value. The fumé dial is now rendered in melange of brown shades as though capturing that moment of diffusion when you add a dash of milk to black coffee. This smoky effect is visually distinctive, but it also serves a functional purpose by making the legibility of the white sub-dials really pop.
The watch's singular dial is amplified by its stainless-steel tonneau case that invests the piece with palpable '60s swagger. That retro character is further accentuated by its adherence to the sizing of the 1969 original. That 37mm diameter is small by modern chronograph standards, but leaves you in no doubt of the watch's vintage roots.
In fact, any deviations from the original source material here are negligible at best. The cappuccino dial is now enhanced with superior lume and covered with domed sapphire crystal, but the most pleasing upgrade is on the flipside of the watch where a display caseback has been added to allow the wearer to admire that movement in full.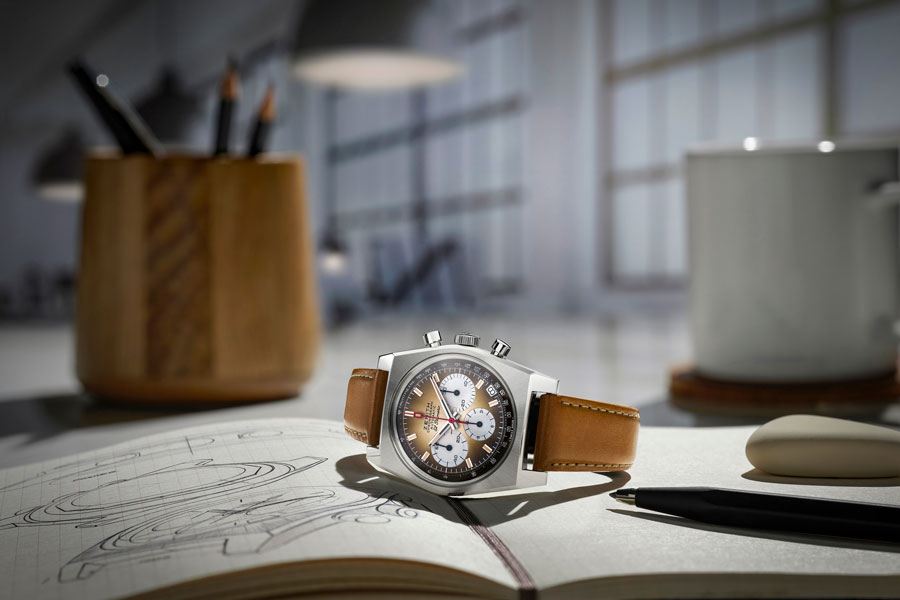 The verdict:
There's no shortage of heritage pieces that riff off old models from a brand's back catalogue. But it requires a certain degree of chutzpah to pull off a truly faithful remake.  This watch is exactly that. Admittedly, that means the water-resistance is still limited to a depth of 50m – modest for a contemporary sports watch  – while the date window at 4:30 will not be to everyone's tastes. What Zenith understand though is that, rather than mess about with a true classic, it's often better to just sit back and rejoice in its rich sepia tones.