Australia has many exotic creatures — the platypus, the echidna, the quokka — but to me, the most unique and fascinating by far is Cressida Campbell. Cressy is a rare breed indeed. Even David Attenborough would have trouble fathoming her many intriguing and charming conundrums. A brilliant, original and renowned artist yet totally humble and deliciously self-deprecating. An entertaining raconteur yet intensely shy and introverted. A generous, big-hearted hostess, loved by many, yet deeply private and reclusive. A creative luminary whose work shines brightly in the stellar realms of artistic celebrity yet totally earthy and gloriously grounded.
For example, it is only through Cressy's adoring husband, the fine-art printer Warren Macris, that I discovered one of her paintings recently sold at auction for $515,000, the highest sum paid for a living Australian female artist's work. Cressy's response is typically self-effacing. "Look," she explains, once I've stopped swinging from the restaurant chandelier. "Of course, it's so gratifying that people love what I've done to the degree they're prepared to pay so much so they can look at it whenever they want. But you also feel removed from it. I just try my hardest to define a picture to the stage that it communicates to someone as best it can — or to me as best it can, really."
I am lucky enough to communicate with Cressy often. We have been dear friends for more than a decade. We met when she hosted a birthday dinner for her sister Nell. I was immediately enchanted by her home in Bronte, Sydney, a cool oasis amid shady ferns, the walls adorned with paintings like a fin de siècle Parisian salon. Cressy had garnished the placements with calligraphic quotes by writers from Chaucer to Dorothy Parker, which flatteringly encapsulated each guest's personality. Her artistry, attention to detail, perspicacity and generosity of spirit won me over instantly. As did her way with words.
Cressy's humour is drier than an AA meeting. Her anecdotes are delightfully tangential and searingly insightful. To each story she brings her intuitive understanding of colour and composition, intense curiosity and that keen observation of the minutiae of life that is so prevalent in her paintings. With her trademark deadpan delivery she builds up chaos and calamity into a brilliant comedic crescendo that leaves guests nearly hospitalised from hilarity.
Cressy is at her most entertaining when telling tales about things going terribly wrong on her holidays. "There was a period when, wherever she went, there was either a coup, a terrorist attack or all-out war," recalls Nell. My regular visits home from London are now one long procession along what I call "Campbell Parade" — as we dine in one sibling's house after the other, quaffing and quipping. (Chekhov has nothing on these three spirited sisters.) At our many riotous dinners, food for thought is always on the menu — the discourse as delectable as the many moreish courses.
This is because the Campbells are blessed with designer genes. Matriarch Ruth, who sadly died in 2018, aged 95, went to art school where she was taught by William Dobell, but left to become a journalist; no surprise, as her Wildean wit was sharp enough to shave your legs. Towards the end of the war, Ruth travelled to London on a ship that was blacked out to avoid Japanese airstrikes. While working in Fleet Street she met the debonair Ross Campbell, still in his air force uniform. Ross, a Rhodes scholar, had studied English at Oxford under the tutelage of J R R Tolkien, who was up to his elbows in orcs as he created "The Lord of the Rings", and C S Lewis, whose head was half in Narnia with his lion, his witch and his wardrobe. (I'm sure Ross was amused that his lecturer was going into the closet while so many other Oxford dons were coming out of it.) Although Ross was a classicist, his literary gifts leant towards the humorous, a skill slightly lost on his tweedy professors. And so, after marrying Ruth, he moved back to Sydney and went on to become a beloved columnist, comedically chronicling the suburban antics of his growing family using the pseudonyms Theodora for Sally, Lancelot for Patrick, Baby Pip for Cressy and Little Nell for Laura.
The Campbell girls adored their "unique and creative parents" who, Sally recalls, "gave us an enchanted childhood, full of love and support". Ross and Ruth encouraged their children to follow their hearts and see where their talents took them. For Nell, who kept her father's nickname for her, it was instant stardom in 1975's "The Rocky Horror Picture Show" and then as the doyenne of New York's most fashionable nightclub, Nell's — a place so chic that a doorman once turned away Cher for wearing fringed white leather. Sally, with her exquisite taste, is now a celebrated textile designer; Patrick became a solar energy scientist; and Cressy, an artist.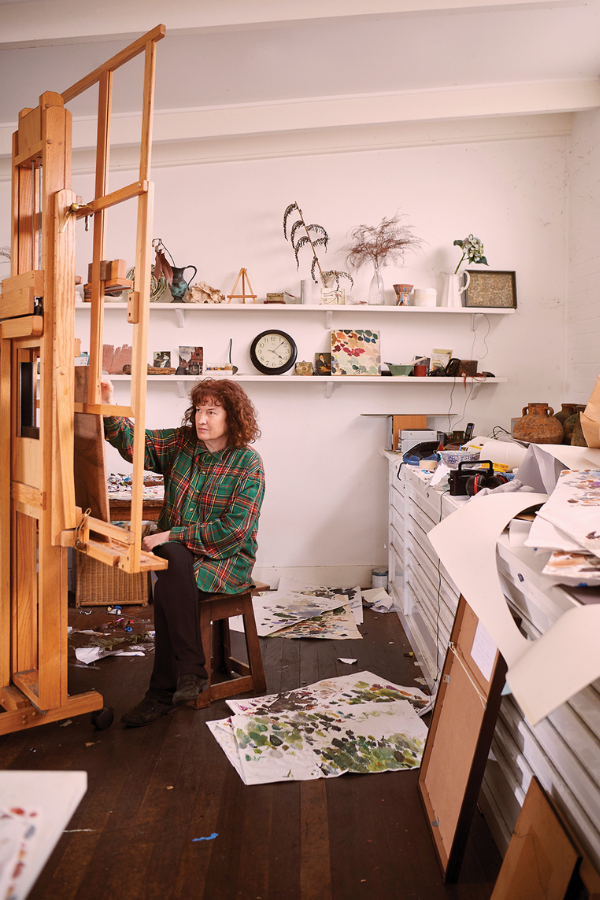 Cressy tells me she started painting aged four and always knew she wanted to be an artist. In primary school she created "witches' scripts" in the hope they resembled the illuminated manuscripts her father so admired. In the early days, Ruth would accompany Cressy when she painted in secluded areas. "I was doing quite a bit of work around the harbour and the bush. Mum would make the most fantastic chicken sandwiches and come sit with me and be my bodyguard," says Cressy. "We had lots of great times." Including one encounter in the paperbarks with a naked pervert. "Mum chased him away, telling him to put his clothes back on," Sally merrily recalls as I picture Ruth walloping the streaker over the head with her rolled up copy of, ironically, The Spectator.
Cressy won her first art prize, the National Parks and Wildlife Service poster competition, aged 11. I remember admiring the work in question, lovingly framed on Ruth's kitchen wall. Cressy had drawn in crayon examples of Aboriginal rock art, then graffitied over the top "Tracey Loves Warren" and "Jody Forever". The caption read: "Is your name here? It shouldn't be." The other winners were two boys aged 17 and 18. Their prize was to spend three weeks travelling together around Australia with a ranger.
The trip made a big impact. "We camped in Kakadu — five feet from crocodiles lurking in the water. The ranger would shine a light into their eyes and they looked like rubies," Cressy once told me on a visit to her garden studio. "We were sleeping in huts with giant carpet snakes coiled over the rafters. We ate buffalo. We went to see remote rock art. I was very shy in the beginning but by the end of the trip, I couldn't stop talking."
And that's exactly what I love most about Cressy. While painting, she likes nothing more than a chinwag on the phone, during which she is always candid and confessional. Cressy is so disarmingly charming, so warm, witty and wise, that you too find yourself peeling off, down to your emotional underwear, in a psychological striptease that reveals all. Like a seasoned jazz musician, Cressy can riff on any topic. Cool, classy, sassy, innovative and improvisational, she really should be accompanied everywhere she goes by a saxophone solo.
When not chatting, she listens to Radio National, which she credits with her education. Like me, Cressy is an autodidact — clearly, it's a word we taught ourselves. Cressy left school at 16 so she could paint all day. She initially applied to go to the à la mode Sydney College of the Arts, which had just opened. "At the interview, I pulled out all these canvases rolled up in a tea towel — paintings I'd done at school. I was very influenced by Rousseau at the time," Cressy once reminisced over afternoon tea. "And this very pompous interviewer sneered, 'Why would a girl from the suburbs want to be painting the jungle?' " Cressy's imitation of this pretentious snob with his condescension chromosome and lovebites on his mirror was so comedically pitch-perfect that tea spurted out of my nose — not a good look on a middle-aged woman. "I was wearing a red leotard top and was so nervous I sweated buckets. By the time I came out of the interview, the top was purple," remembers Cressy. "I got in, but only lasted three days. The school was totally conceptual and I just wanted to draw and paint, so enrolled in East Sydney tech."
Nell often observes that, as is the case with many successful people, Cressy's favourite thing to do is what makes her successful. "Drawing and painting aren't work for her and she happily spends seven days a week in her studio. She finds painting very calming," says Nell. "Almost nothing stops her from picking up her brush. The only time she doesn't paint is while on holiday — when she's looking at paintings."
And when she visits me in London, that's exactly what she does: explores galleries, quietly, on her own, like a pilgrim to a shrine. I have never encountered anyone with such an acute visual sense. When I first met Cressy I thought she must be prone to frostbite as she travels with so many shawls and sarongs, until Nell explained that they're not to wear but to drape over any offending furniture or paintings in hotel rooms. Nell and I often laugh about the day Cressy offered to buy her new beach towels as she found Nell's old ones, drying over her terrace railing, too brash against the subtle hues of the surrounding bushland.
The actor, comic genius, art connoisseur, avid collector and my London neighbour Barry Humphries is rapturous about Cressy's work. "Her pictures bring such joy," he says. "She's a total original. She sees the decorative possibilities in everything around her. Her pictures are not merely decorative — they're alive!" At crowded parties in my house, the two of them invariably retreat into a cosy corner to discuss the artists they adore and abhor. (Vermeer, Utamaro, Stubbs, Klimt, Degas, Picasso, Matisse and Giotto are firm favourites, while abstract artists rate less highly on her awe-ometer.)
What most captivates me about her work is the way she finds poetry and beauty in the everyday, be it stacked dishes, compost scraps or rusty shipping containers. She also captures the light and vibrancy of Sydney, with its twisting waterways and resinous bush, with such emotive accuracy that I can almost smell the eucalyptus leaves and feel the fur of the flannel flowers.
Despite the joyous, life-affirming luminosity in her pictures, Cressy has had many dark days dealing with grief. When she was 21 her darling dad died of cancer, a disease which also stole her beloved first husband, the film critic Peter Crayford, and her adored brother, Patrick. The passing of Ruth, with her discerning eye and creative camaraderie, was also a huge loss. Cressy has recently endured her own alarming health scares — a brain abscess two years ago left her unable to paint for a terrifying time and the subsequent scar tissue means she must now take drugs to quell epilepsy.
Sipping wine one night in her magical, midsummer night's dream of a garden, I asked Cressy if personal tragedies had changed her work in any way. "Well, after Peter died, the pictures became much more moody," she confided. "For whatever reason, I'm doing these much more reflective pictures. I'm doing a picture at the moment called 'Night Studio'. You can see part of the studio reflected through the louvres. It's actually a street lamp reflected outside the windows but it looks like the moon. I can't decide whether to tell people it's just a streetlight," she says, chuckling. "But if I was seeing a shrink, they'd say, 'That's very interesting, Cressida. You're reflecting on the reflections.' But in actual fact, it's just as likely me lying down on the couch with a glass of wine, looking into the reflection and liking the look of the composition."
Although the art world takes Cressy's work very seriously — the National Gallery of Australia is about to launch a massive retrospective (from September 24 to February 19, 2023) — she refuses to mount her arty high horse and gallop off into the sunset. When I rang for a chat recently, I tried to coax her into explaining her idiosyncratic technique that involves painting, woodblocks, carving and printing."Honestly, Kathy," she interrupted, "I hate talking about it. People think they want to know, but then their eyes glaze over." As soon as she said this, the line went dead, as if in tacit agreement. Reconnecting moments later, Cressy and I cackled like kookaburras.
Cressy has always been a collector. She started as a girl with stamps and shells, graduating to 18th-century Japanese ukiyo-e prints and Eastern ceramics that she seeks out in dusty old antique shops in places like Penang and Cambodia. I don't collect art, I collect friends. And Cressida Campbell is a treasure. I just want to put her on my metaphorical mantelpiece, as a cherished and true original.
This is an extract from an article that appears in print in our eighth edition, Page 70 of T Australia with the headline: "Portrait of an Artist"