When I first stepped into Gimlet at Cavendish House, it was like taking a cool drink of water after months of wandering in the desert. That conversational hum, that glass-on-glass tinkle, that rush of energy that accompanies every hot new restaurant worth its (expertly deployed) salt — these things have always thrilled me. But late last year, after Melbourne's long, stark winter of lockdown, it felt like a balm, like a miracle. The room glittered in all its clubby, opulent glory. When chef and owner Andrew McConnell announced the then-unnamed project in 2019, he promised a grand European brasserie, along the lines of The Wolseley in London or New York City's Balthazar. Gimlet certainly looks the part with its high ceilings and golden chandeliers and giant mirrors, although it's a little slicker than the brasseries it imitates, which revel in their burnished beauty.
Gimlet's original opening date was to be in March of 2020, and, well, we all know how that month went for Melbourne and for the world. After a short period of soft opening in June during Melbourne's brief respite from lockdown, the room went dark again. In late November, the launch McConnell had envisaged all year finally happened. The postponement was an incredible blow to McConnell, particularly as this restaurant must be one of the most expensive fit-outs in Melbourne's recent history.
The room is designed in layers: the central bar, surrounded by a chequered floor, fronts the gleaming open kitchen. Next comes a ring of bar tables, then burgundy booth seating. The outer edge of the room is raised for larger tables, which are framed by the huge windows of Cavendish House, which was built in the 1920s. This is dining as theatre, with multiple stages — the kitchen, bar and tables are all intended as sets from which cooks, bartenders and diners might accept their respective ovations.
Take your place at one of these stations and order — what else? — a Gimlet. The namesake cocktail is a lovely perfumed affair thanks to a touch of moscato, a syrup containing seven different kinds of citrus and a garnish of Geraldton waxflower. Neither as tart nor as sweet as a classic Gimlet, it sets the scene for the night of refined deliciousness ahead. The nods to those storied European brasseries that inspired McConnell are subtle. Yes, there is caviar service (sometimes; luxury ingredients from faraway lands have been much harder to come by this past year) and oysters and crudités. There is rock lobster for two, served over saffron rice — more Spanish than French, but impressive all the same. My seafood salad might more accurately have been called "one prawn, two clams and two mussels", though its tomato dressing was tart and lovely and refreshing.
But most of this food is straight out of the McConnell playbook — that is to say, creative vegetable dishes that sing thanks to bold contrasting flavours, such as bullhorn peppers cooked to a pleasing sweet slump and paired with oregano and fresh ricotta, or asparagus served over a slick of nutty pistachio and dotted with fresh bursts of mandarin.
There is the requisite crudo, seen on almost every Melbourne menu these days, and it's just as wonderful here as anywhere else, the cool, fatty yellowfin tuna dressed with verbena, cucumber and pomegranate. There are two steaks, one a peppered Wagyu rump with leeks and lovage, the other a dry-aged one-kilogramme rib-eye, meant for two, that will take up your whole table and make you feel fancy indeed. It should come as no surprise that McConnell and his staff know how to cook a steak — these are some of the better hunks of meat I've had in Melbourne.
Sommelier Leanne Altmann has put together a great wine list that smartly touches on every price point, from bargain drops to blowout, once- in-a-lifetime bottles. I have to say, in this room with this wine list, I longed for some of the more extravagant luxuries of New York's Balthazar or the gilded restaurants of Paris: the seafood towers, the cheese cart, the tableside flambé. Gimlet at Cavendish House is not so French as to accurately reflect the great brasseries of France (or New York), nor is it so clearly Australian that it nods to any part of our own country's story. The offering is obviously Andrew McConnell food, which means it is very, very good. It also means that it is very much like many other things you can get in Melbourne.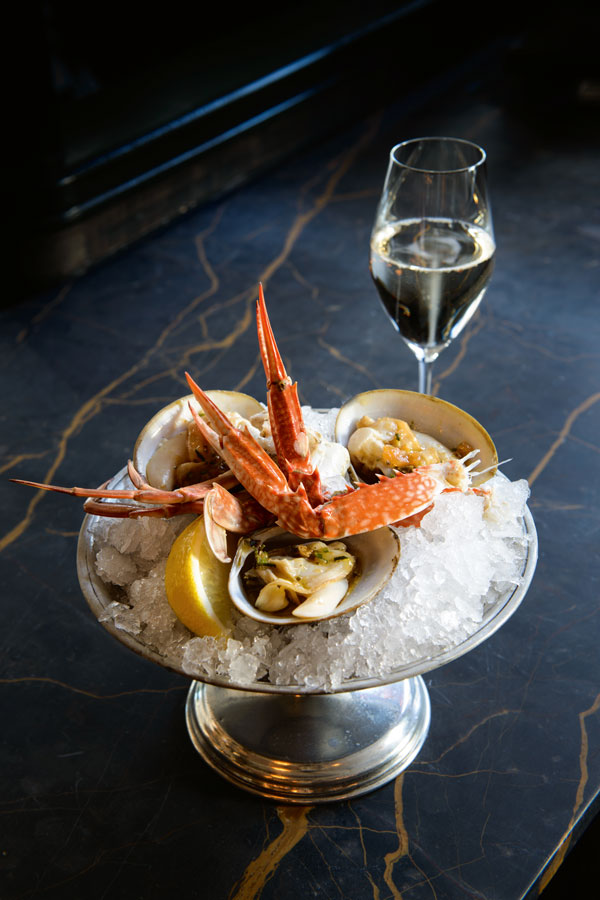 Would it be too much for me to wish that one of these expensive and ambitious projects might look to our own history for inspiration rather than France or London or America's take on these places? Indeed, Australia had its own version of haute French cuisine, buoyed by the wealth of the gold rush and the Victorian era, the same fortune that built Melbourne in all its finery. Menus from banquets in Australia dating back to the 1800s are easily found in libraries and online — what fun it would be to see a chef with McConnell's talent and bravado take on a project that uses those archives as muse.
This is not a direct criticism of McConnell himself or of Gimlet. In some ways Andrew McConnell is Melbourne, his food and restaurants (and the talent he has fostered) having defined so much of who we are and what we eat. It would be unfair of me to fault a chef for delivering the precise thing that he popularised, especially when he's doing it extremely well. It is a broader wish, though, that we could celebrate and borrow from our own history as much as we do from that of Europe and America, and that Australia's best restaurants could be easily distinguishable from their counterparts in those places.
In the meantime, if you are looking for a grand night out — a reason to dust off your heels, a pay cheque to blow and a gorgeous setting in which to blow it — Gimlet at Cavendish House will do quite nicely.
THE FACTS
Address: 33 Russell Street, Melbourne
Contacts: (03) 9277 9777
Must-Try Dish: The seafood salad
Signature Cocktail: The Gimlet with moscato and citrus syrup, garnished with Geraldton waxflower Cost: It's a splurge (rock lobster for two, $150)
Need to Know: Open Tuesday to Sunday, from noon until late. For more information, gimlet.melbourne
A version of this article appears in print in our launch edition, Page 54 of T Australia with the headline:
A Brasserie for our Times
Order a copy | Subscribe