I hear Jacob Elordi before I see him. "Hey, guys!" he shouts from another room in the hotel suite we're shooting in, moments before his six-foot-five frame enters the living room. "Great to meet you," the 25-year-old says, his hand outstretched to shake. Elordi's voice is deep, with a faint American inflection betraying the Brisbane-raised actor's Hollywood address, a move he made in 2017 to take a gamble on the Los Angeles audition circuit. 
The difference a few years can make is head-spinning. After relocating, Elordi endured a string of casting call noes and his bank account dwindled to just a few hundred dollars. On more than one occasion he was forced to sleep in his car. Now he is working alongside some of the industry's most venerated talents: he stars in the director Emerald Fennell's forthcoming feature "Saltburn" alongside Rosamund Pike and Carey Mulligan, and he recently wrapped production on the Sofia Coppola-directed Priscilla Presley biopic, "Priscilla". "It's like something that you would think of in a dream, and then it coming true and then having to live it — it was really nothing short of magic," he says of being directed by Coppola. "And she's a really beautiful, calm person. I just learned so much about filmmaking."
Elordi recognises that his ascent, though not unique, has been uncommonly swift. He broke ground and gained public attention (and millions of Instagram followers) through his portrayal of the bad boy Noah Flynn in Netflix's three-part film series "The Kissing Booth", before joining the ensemble cast of HBO's hedonistic drama "Euphoria", set at the fictional East Highland High School. In the latter, Elordi portrays toxic masculinity incarnate Nate Jacobs, a psychologically volatile quarterback who favours violence over vulnerability. He notes that his approach to character preparation differs for each role he undertakes; to channel the mindset of the polarising jock, for example, Elordi studied the behaviour of TikTok-famous "gym bros" and predatory sharks. 
Some actors, when speaking to the benefits of a serialised performance, cite cast and crew camaraderie or the long-term devotion of fans. For Elordi, recurring roles provide something different: a do-over. "Often when you're making a film, you'll do a scene and it'll haunt you for years," he says. "[Television] gives you an opportunity to maybe right your wrongs."
This reference to redemption hints at an intensity, or perfectionism, that is inherent in Elordi's approach to his craft. In a 2022 interview for the podcast series "The Edge", produced by Tag Heuer, he discloses his longstanding relationship with self-doubt and self-criticism, and speaks of how he is unable to watch his performance playback objectively ("not even for a second"). "I quite enjoy being highly critical of myself. It makes me demand a certain quality of work," he tells the interviewer.
Tag Heuer is the reason for his brief return to Australia. Last year, Elordi was appointed an ambassador for the luxury watchmaker, a position also held by fellow actors Chris Hemsworth and Ryan Gosling. A brand event later this evening marking the 60th anniversary of Tag Heuer's Carrera model doubles as an Elordi family reunion. On the T Australia set, backdropped by Steve McQueen's 1968 film "Bullitt", which is playing on the nearby television, Elordi and his older sister, Isabella, discuss camera settings while their mother, Melissa, offers everyone coffee.
Elordi is mindful when choosing whom he surrounds himself with. His relationship with Tag Heuer, is "about working with good people", he says. Shared values play an important role in the actor's creative collaborations and it's why he enjoys working with Isabella, a photographer. "Having your picture taken is kind of a super vulnerable, uncomfortable thing, so doing it with my sister is just like being a kid," he says. "We used to take pictures and make all sorts of things all the time." 
References to childhood provoke reflections on time. Is Elordi a nostalgic person or a futurist? Is he adept at living in the moment? "I think we're kind of all damned to look to the past and to the future," he says. "Every now and then you find that sweet spot where your feet are on the ground and you're kind of really taking part in a moment." He pauses. "But I don't think you can live there for very long."
The archetypal Australian leading man is larrikin-leaning: mischievous, rowdy and big-hearted. On first impression, one might paint this actor with the same brush — physically, certainly, Elordi is larger than life. But our time together reveals a more introspective individual, an erudite cinephile who takes his work seriously and seeks to occupy a more serious leading man position. 
His idols speak to the blueprint Elordi is following. The list includes Brando, Olivier, Bale, Ledger and McQueen — screen legends whose oeuvre and success he one day hopes to emulate. "It's quite an eclectic bunch of people," Elordi says of the through line connecting his professional heroes. "I think the thing that carries through is a kind of respect, and a respect for — if there were to be such thing as a craft — a dedication to this singular thing which is performance.
"I appreciate that bravado in all of them," he continues, "choosing this performance to be their religion and their faith, and the kind of intensity in the way they pursue it."
Despite his past admission of self-doubt, Elordi's demeanour suggests a seasoned interviewee and a performer who backs himself wholly. The podcast interview affirms my hunch: "It would be remiss of me not to say there's this pit somewhere in my stomach that's deeply, deeply confident in the work that I do," he said. In conversation with him, it's easy to forget he is just 25. How lucky for us that Elordi's got nothing but time.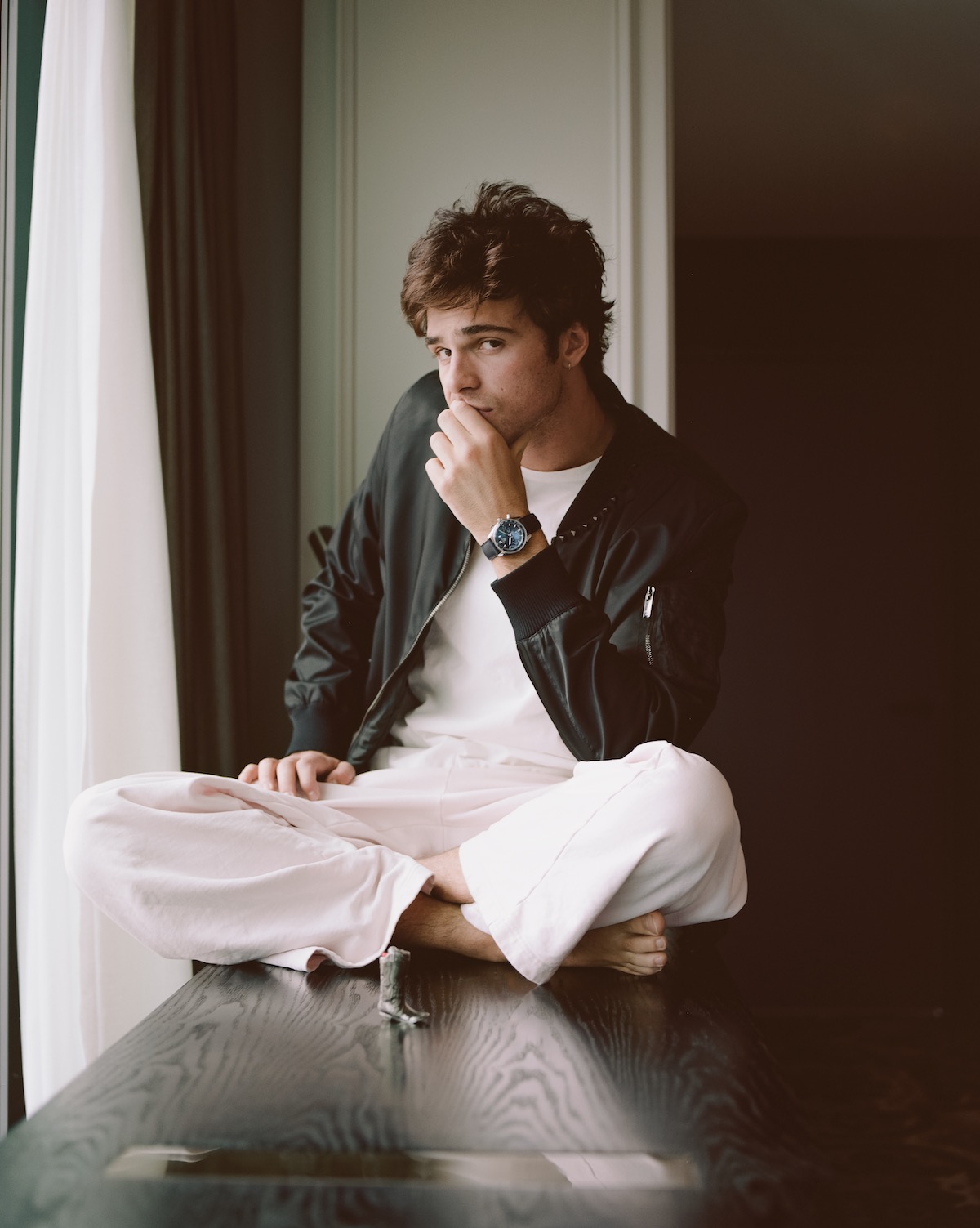 This is a short extract from our newest issue.
To read the full story, pick up a copy of our new issue in newsagents nationally or subscribe to receive T Australia straight to your letterbox. You will find it on Page 56 of Issue #12, titled "Taking the Lead".