The interior designer Marie-Anne Derville, 36, has lived in eight arrondissements and eight apartments since moving to Paris at 18. "In French, we say, 'on a la bougeotte.' It's a feeling of being restless," she says. "My life is always about new chapters." But by far the most unusual place she has inhabited — and the one she can't let go of — is in the eaves of L'hôtel d'Hallwyll, a grand 18th-century former hôtel particulier in the Marais neighbourhood.
Derville arrived at the address, provided by a distant uncle who owns an apartment in the building, in September 2018, in need of a stopgap in Paris following a breakup with a boyfriend. Fresh off a plane from New York, where she had been working on various U.S.-based projects with her then boss, the French interior designer Pierre Yovanovitch, she took one look at the imposing neoclassical facade — added to the original structure by the renowned architect Claude-Nicolas Ledoux in 1766 — and decided she might need to stay longer than the two weeks she'd anticipated. After crossing the courtyard, and taking in the elegant proportions of the property, whose former residents include the 18th-century Swiss banker Jacques Necker and the German artist Anselm Kiefer, she went up the stately wrought-iron staircase to the top-floor apartment. Here, she was met with another shock: The 1,300-square-foot one-bedroom duplex had a clean, monochromatic look at odds with the mansion's Doric columns and flower-embellished pediments, thanks to a 1998-99 renovation her uncle had overseen by the acclaimed French designer Andrée Putman.
"I had kind of an attack!" Derville recalls of stepping over the threshold. "It was a delirium of architecture, a box of creativity, full of playful little details." She'd arrived with only two bags — the rest of her possessions were still at her ex-boyfriend's place — but she began to make herself at home. "I had no electricity for three weeks and I had to take cold showers, but I was so happy," she says. "I feel very affectionate toward places that are eccentric, full of history and soul. I said to my uncle, 'We will have to figure something out, because I can't leave.'"
Part of the attraction was that Derville, who in 2019 set up her own interior design practice after seven years working as a decorator at Yovanovitch's studio, felt a strong affinity with Putman's work. Bold mixing of styles and periods might define interiors today, but when Putman was starting out in the 1970s, imposing modern schemes on historic buildings was a radical statement. Known as la Reine du Damier (the Queen of the Checkerboard) for her love of monochrome, Putman became famous for her minimalist interiors for Ian Schrager's Morgans Hotel, which opened in New York in 1984 and inspired a crisp new look around the world. "She was speaking about rigour and harmony," Derville says. "In my work, I'm trying to access the same thing, rigour, but also to create poetry."
Both ideals are on show in the Hallwyll apartment thanks to Putman's structural changes and Derville's furnishings. "My uncle Paul-Henri Guermonprez, who was part of a group of people who restored some of the most beautiful old hôtels particulier in the Marais, was good friends with Andrée. He told her, 'Just do exactly what you want. Have fun,'" she says. "It's full of surprises." The first is the heavyset Emperador marble fireplace, which has Putman's favoured chunky curves and contrasts in style with the sloping eaves in the living room and the angular metal mezzanine that bisects it (another Putman addition). Flanking the fireplace are two oak wall-mounted architect's tables, which the designer installed purely for their aesthetic value.
They'll be useful next year, however, when Derville, who bought her own place in the 11th Arrondissement in 2021, commandeers the apartment as an office for her growing namesake business. (Her uncle lives mostly at an apartment elsewhere in the Marais.) "He has been kind enough to let me keep the keys," she says. Though she still collaborates with Yovanovitch on one-off projects, her portfolio spans residential projects including a New York penthouse for a hip-hop producer and installations for galleries — most recently for Galerie Jérôme Poggi in Paris, where she offset a show of work by the Norwegian artists Edvard Munch and Anna-Eva Bergman with antique Scandinavian furniture sourced from the French dealer Eric Philippe.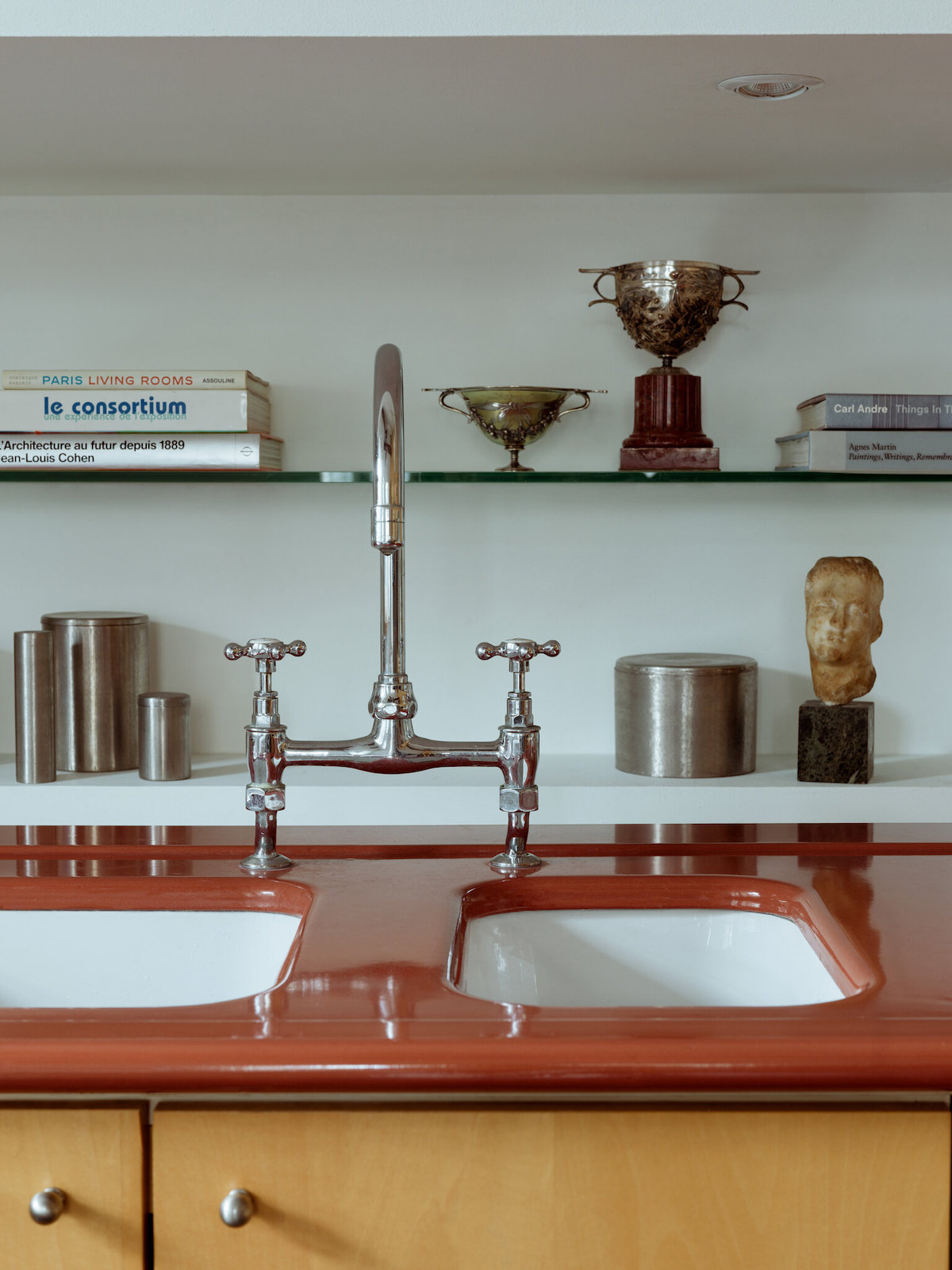 The compact kitchen is also full of Putman's quirky but understated touches. On the internal wall that divides the room from the living area, a fireplace is inset in custom pear wood-veneer cabinetry, which features two interior windows-cum-serving hatches. "It feels a bit like a boat in here," says Derville, pointing out the fitted cupboards and wire-glass shelving. An enamelled lava stone-topped kitchen unit sits two feet off the back wall, like a free-standing piece of furniture, providing space for recessed shelves, which Derville has filled with 19th-century Christofle silver bowls, a collection of 1960s metal boxes by the Greek artist Philolaos Tloupas and a Roman marble head, which she sourced from antique-dealing friends at Paris's Galerie Chenel and ALB Antiquités. Tall glazed double doors open onto an expansive roof terrace from which the hum of the Marais can be heard.
The noise is unexpected: With its muted palette and spare fixtures, the apartment is so calm it's easy to forget it's in central Paris. The primary bedroom suite, which leads off the living room, feels more Japanese than French because of its Putman-designed sliding doors, with straw inserts sandwiched between two thin panes of glass, and its blond pear wood-veneer cupboards and console with two carefully crafted foldout mirrors. The final unconventional flourish is upstairs. Reached from the mezzanine via a narrow corridor, and tucked under the beams, is a free-standing glossy white bath: Putman's '90s-era reimagining of a traditional cast-iron tub with cartoonish balls in place of clawed feet.
When it came to furnishing the apartment, Derville was keen to preserve Putman's vision. She stuck largely to 1920s and '30s French Modernist pieces that would likely have pleased her predecessor, arranged alongside items belonging to Guermonprez (a leather 1940s club chair by Louis Süe and André Mare and a squiggly 1980 Ellsworth Kelly cartoon among them). In the living room, a cream 1920s bergère and a 1913 ebonised-wood coffee table, both by André Groult and sourced from Derville's friend the Paris furniture dealer and gallerist Maxime Flatry, stand to the right of the fireplace; a snow-white 1939 Jacques Adnet armchair and two triangular 1950s black lacquered Thanh Le side tables sit to the left. In another corner, she positioned a 1915 blackened-wood floor lamp, also by Groult, alongside a 1977 Joseph Beuys artwork, comprising photographic negatives of his 1974-75 installation "Show Your Wound," from her own collection. And elsewhere, works by Derville's friends, including the Italian painter Giulia Andreani and the French artist Laure Prouvost, who is also her cousin, add colour to the white walls and tinted oak parquet floors.
Much as Putman, who died in 2013 at 87, ran with a creative crowd that included the French fashion designer Yves Saint Laurent and the Romanian French playwright Eugène Ionesco, many of Derville's friends are designers, artists and gallerists, and the group meets regularly at Hallwyll for what she describes as a modern-day take on a salon. "I've always loved the idea of big, beautiful gatherings of friends, like those of Marie-Laure de Noailles," she says, referring to the artistic hostess famous for her 1920 salons attended by the poets, painters and politicians of the day. (As it happens, another famous hostess, Germaine de Staël, was born in Hallwyll, in 1766, though she grew up to host literary and political conclaves elsewhere in Paris.)
Among Derville's regular guests are the gallerists Flatry, Adrien Chenel and Laura Kugel; the architect Sophie Dries and her partner, the sculptor Marc Leschelier; the artists Hadrien Jacquelet and Prouvost; and Yovanovitch and her old studio colleagues. They discuss art and architecture and once fantasised about launching an interiors magazine. "When people come together and there's all this brain power, it's fabulous," Derville says. But she's quick to puncture any pretension. She is, by her own admission, a terrible chef — she has never lived down a failed turnip pasta dish — and so the food offering is typically limited to potato chips. As spending time in the apartment has confirmed for her, the simplest solution is often the most elegant.
More breathtaking interiors from T Australia: