Not long after he punched that shark but before he officially retired from professional surfing, Mick Fanning found himself in a giant cooler filled with craft beers of every imaginable style. He had always been a simple drinker, grabbing a Tooheys or whatever else was cold, but he and a few friends were starting up a new brewery and so there he was, an Australian icon, doing research in the fridge, shivering and overwhelmed. "It was just too much," Fanning says. "I was totally hoodwinked."
The cooler seemed like Times Square or a crowded point break. It was a scramble for attention. The shelves were filled with busy little brews dressed in bright colours a tick below neon, with anchors, palm trees, loud logos and a swirling sea of names involving hoppy puns, pirates, boats, beaches and even squid.
Fanning and his six partners, mostly surfers looking towards a second act, knew they wanted something more low-key. Good beer, no snobbery. They'd already landed on the name Balter, which means dancing for enjoyment without grace or skill, and they wanted some way to communicate the vibe. Fanning threw out an idea that stuck: put the beer in a simple white can.
Balter's head of marketing added a colour in the lower third — "Like board shorts," Fanning says — and with that they were off, drumming up interest with their first offering, an elegant extra pale ale that they just called XPA. Within a year, the beer spread across Australia from its home on the Gold Coast near where Fanning grew up and still lives. These days, after a deal with a bigger brewer, Balter's understated style is nearly everywhere. "My career was built on performance — I didn't need all the bells and whistles — so I think sometimes less is more," Fanning says. "That's where I've kept focusing."
We are sitting at the Chinderah Tavern, a riverside pub north of Byron Bay with that same less-is- more aesthetic. Fanning picked the spot once we discovered that Covid-19 border restrictions would keep me from Balter brewery in Currumbin, and in many ways the Chinderah is a better fit. The Red Bull ambassador — a three-time world champion — seems to go unnoticed here in his white Rip Curl T-shirt, which has zinc stains on the shoulder. Everyone around us on the wide wooden deck is in thongs or work boots and there is only one craft beer along the row of taps: Balter XPA.
I'd reached out to Fanning because I'd been throwing money at him for years, buying his beer and also his soft surfboards, which were in high demand when they debuted in 2017. Unlike many pro athletes, who fall into nostalgia and binge-eating after leaving the game, Fanning seemed to be finding strength and creativity in his post-sport life. I wondered how he managed to become a successful entrepreneur when his "retirement" also included ads for his sponsors, surf trips, a shark documentary and a new partner and son.
"It has been busy," Fanning tells me. Then he surprises me by admitting he sometimes feels as overwhelmed as he did in that beer fridge. At 39, there's more of everything to manage, he says, and he's still trying to work out when to do less and when to multitask. After so many years of focusing solely on the water and personal goals, he is still finding his footing on land, with all its opportunities, demands and challenges. "It just feels like I'm learning life again," he says. "What do you mean?" I ask, over our lunch of chicken schnitzel. "Selfishness," he says with a laugh. "I'm just so used to grabbing the keys and saying, 'I'm going to the beach.' Now it's like, 'Nah, you're on a schedule.' "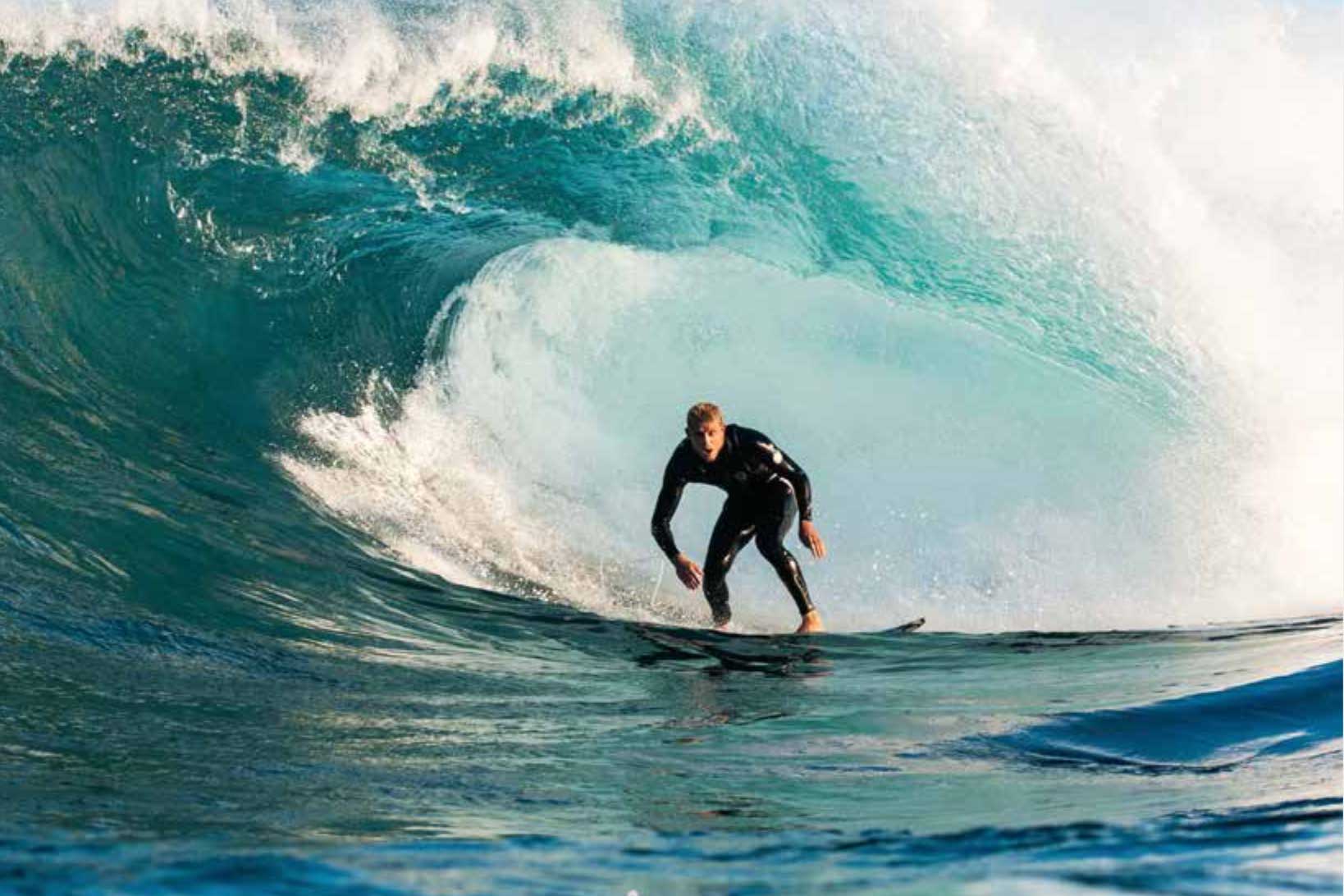 Fanning's relationship with work has been evolving since childhood. His introduction to business came early — at age 12, when Quiksilver sponsored him. The youngest of five boys raised mostly by a single mother, he had moved to the Gold Coast by then and when I asked if he was one of those kids who had a lemonade stand or some other sign of financial ambition, he shook his head and said "definitely not". His mother, Elizabeth Osborne, told me Mick was good at everything — soccer, running, academics — but never had much interest in fancy possessions. "Mick had nothing when he was a kid," she says. "Even though I had very good jobs, with five children, he didn't get much. It was all hand-me-downs."
When his surfing career took off, his earnings started to pile up, in part because he spent so little. Osborne, the head nurse at a local hospital, became his manager and made sure he was with her when his contracts were negotiated. She says she also needed to teach him to use his money wisely. Or at all.
His first financial move was sentimental. At 19, he purchased the two-bedroom apartment near Tweed Heads, New South Wales, that they all had lived in and loved after moving north from Penrith, the working-class Sydney suburb where Fanning was born. It had views of the ocean. The home was a playful haven for all the Fannings, including Mick's older brother Sean, a promising surfer seemingly destined for the world tour who died in a car accident two years before Mick bought the unit. "He wanted it because it brought up so many happy memories," his mother says. "I don't think he'll ever sell it."
Fanning, whose sponsors include Red Bull, went on to invest in more real estate, following the path of so many Australians who see property as the bedrock of financial stability. But there were also signs of a more adventurous interest in branding and design. In the surf, Fanning came to be known as a fierce, technical competitor, the kind of surfer who could carve the face of every wave as if it were under a microscope. Especially after he won his first world championship in 2007, he started to zero in on the details of everything else he touched. He worked closely with Darren Handley on his surfboards. At Creatures of Leisure, another sponsor that provided traction pads, he became well known for feedback along the lines of, "Nah, that traction is crap, let's go with this grid pattern."
Fanning recalled he was equally demanding with the board shorts Rip Curl delivered. "The designers would bring the materials, but sometimes if they made the shorts too light, they'd ride up too high," he says. "It was just little things." Mick's mother says his interest in design started with Sean. The two were extremely close. Sean was three years older, and intense. He was the one writing to companies every week seeking sponsorship. He was the one constantly drawing surfboard shapes and designs. "Mick learnt a lot from Sean," Osborne says. "He was a clever, creative boy."
The loss crushed Fanning, leaving him immobile for days. But eventually, he says, it pushed him into hyperdrive. That pattern — rest, contemplation, acceleration — emerged again after another series of tragedies hit in 2015. His brother Peter died, his wife left, and then there was the incident caught on camera with the shark in South Africa. Instead of laying low for a week, he decided to take the next year off. "I was just empty," he says. The beer business, among other things, came to the rescue.
Balter began with the dream of Bede Durbidge, a pro surfer and friend of Fanning's who had always wanted to open a brewery. He broached the topic with Fanning, Joel Parkinson and Josh Kerr when the surfers were all in Hawaii one year, then returned to the idea after he broke his pelvis in a punishing wipe-out at Pipeline reef break in the same state. All the boys, as Fanning calls them, had grown up surfing around Tweed Heads and as Durbidge had explained, their motivation was clear: "Surfing doesn't go on forever and this is really about life after surfing and continuing to be inspired and happy."
Through much of 2016, Fanning focused on the startup. He found the name Balter online and pushed for it. He refined the branding, working with another founder, Stirling Howland, a former creative director at Billabong. And he swept the floors. He holds out his phone and shows me a photo of himself with a broom to prove that he isn't just spinning a yarn. He then swipes over to another from June of that year, which shows him in a black T-shirt carrying a heavy keg of Balter to one of the handful of pubs that agreed to feature the beer when it launched. "It doesn't matter if you're in sport, business or any world, the one thing that always comes out on top is hard work," Fanning says. "There are no short cuts. Everyone looks for this secret ingredient. It's just hard work. Doing things no one wants to do."
Fanning started dabbling in other investments, too, usually at the behest of friends. At one point, he went to visit Mark Mathews, a big wave surfer who busted up his leg on a shallow reef in New South Wales at the end of 2016. Mathews had a new surfboard he was developing sitting around the house. He was toying with the idea of foam over a layer of fibreglass, and he asked Fanning if he'd be interested in getting involved. Mick Fanning Softboards launched the following year with a quiver of boards that reflected Fanning's taste: simple colours and shapes, unadorned fonts, stellar construction. (The company won a coveted Good Design Award in 2019.) It was an echo of Balter. In both cases, Fanning and some friends he trusted built a company that was fun and easygoing but also precise about what mattered most: the performance of the product.
Fanning's favourite part of capitalist competition is the beginning. The idea. The imagining of what it can become with hard work. "You get excited when you go in and you see the business plans and they're like, 'We're going to aim for this' or 'We're going to reach for that,' " he says. "It's like setting up at the start of the year, and you're like, 'I'm going to go for the world title and this is what I'm going to do along the way.' It is fun."
And with startups, as with surfing, one win builds towards another. Once he and the boys sold Balter to Carlton and United Breweries in late 2019, with incentives that keep them involved for five years to reach a reported payout of more than $150 million, another round of ideas and pitches began flowing in Fanning's direction. He started to work out a theory of how he wanted to invest: "I have to feel like I would use it," he says, "and I have to feel like it's a bit of a game changer."
Over the past year or so, he has bought into Scratch, a healthy dog food he used with his own dog, and Fritzenberger, a Brisbane brewpub chain where he's occasionally pulled pints of Balter for a promotion. But the company he is most excited about now is Sea Forest, a startup that cultivates a particular seaweed (Asparagopsis) that can be used as a feed supplement to help cattle grow faster while also reducing methane emissions, a major contributor to climate change.
It's a bit of a stretch for Fanning. He's not going to be gobbling seaweed anytime soon, but it is a potential game changer and a sign of his shifting values. Since he officially retired in 2018, family and parenthood have broadened his perspective. His first call about Sea Forest came the day after he watched "2040", a documentary about solutions for the planet that was motivated by the director's concern for his daughter. "Sometimes, it's all about timing," Fanning says. "I watched that and got the call and I was like, 'OK, I'm in.' " Sam Elsom, the company's founder — and another avid surfer — said he was shocked at how quickly Fanning got involved. "He was deeply engaged, not only with the economics but also with the environmental impact," Elsom says. "For a surfer, he's someone I would regard as a sophisticated investor."
With a company that's less consumer focused, Fanning has been shaping the corporate culture at Sea Forest in more subtle ways. Instead of branding, he's encouraged Elsom to make sure everyone he works closely with is the kind of person with whom he'd want to have a beer. Halfway through our lunch, Fanning tells me he spoke to Elsom that very morning to encourage him to keep going on his own, even though there is already plenty of interest from additional investors and potential purchasers.
"I was telling him, 'You've got a great product and if people come to you with all this money, that means you lose control of it,' " he explains. "Basically, it's just back yourself, you know what I mean?" He sounds like a seasoned venture capitalist. Take a risk, believe, stay patient. The hardest part of life and business, he says, might be learning to stay calm and say no. His mother often worries that Fanning is too quick to say yes — to go along with friends on investing $50,000 here or there — but Fanning seems to be aware of that danger. He says he's trying to be more careful with his money, his time and his surfing. Now when the water feels a bit sharky, he gets out. Instead of surfing all day, every day, with goals in mind, he simply enjoys whatever the waves give him for the hours he has.
His son, Xander, often calls the shots. He's still less than a year old, and during the handful of weeks when Fanning and I are in touch by phone, text and in person, his days are built around infant naps, or visits to relatives or friends with new babies. When I mention that by the time Xander starts surfing, he may see his father as more of a businessman than a champion athlete, Fanning seems surprised by the notion. He can't imagine toiling in an office or letting a company define him. "I look at it as more setting myself up for later down the line, so I don't have to work," he says. "That's the whole goal."
If it all goes according to plan, Xander and his future siblings will see their father not as a worker or a boss but rather as simply a surfer eager to experience and improve the world. "I want to be able to take my son around to all the amazing places where I grew up," Fanning says. "Hopefully I won't have changed much by the time he gets old enough to remember."
A version of this article appears in print in our launch edition, Page 90 of T Australia with the headline:
Shifting The Fog
Order a copy | Subscribe