Personal style is having a moment. Where once we were offered garments embodying various design archetypes or moulds, cries for more diverse narrative representation in fashion have prompted brands to cater more directly to their increasingly self-styled audiences. The result is a sparkly new era of individualism, buoyed in recent years by the pervasiveness of Instagram, TikTok and other "me"-centric social media platforms. Look no further than Hedi Slimane, who eschewed previous muses such as Joan Didion and Margaret Qualley in favour of TikTok stars for Celine's spring 2021 collection, both in its genesis and on the runway. Prior to this, Viktor & Rolf's spring 2019 showcase featured oversized tulle gowns printed with slogans practically screaming to be memed, the most shareable including "I'm not shy I just don't like you" and "Sorry I'm late I didn't want to come".
"Many of the trends you see on the streets and the catwalks either have begun or will break out on Instagram," says Larissa Gargaro, Instagram's manager of fashion and beauty partnerships in Latin America. She says the platform has "played a huge role in changing the way that fashion is consumed online", adding that 90 per cent of Instagram users follow a business and 18 per cent follow one of the top 100 fashion and beauty accounts. And it's not just influencers and small brands that use tags on feeds, Stories and Reels to sell products, she says. "Huge fashion houses can use Instagram as a window for commerce that's fully driven by content," she says.
Scroll, swipe, share, repeat: a cyclical, rapid- fire sequence we have down pat. That's until the rare occasion when something cuts through loudly enough to focus our attention. Earlier this year that event was the sudden death of the pioneering designer Carla Zampatti at the age of 78. Zampatti had not yet retired and was still in the business of crafting wardrobes for women of multiple generations. As tributes to Zampatti flooded in, each describing decidedly offline encounters with the designer or her creations, mourners reflected on her energy, character and grit, and the indelible mark she left on the fashion industry. There wasn't a single reference to "engagement" or "likes". Kelly Atkinson, the cofounder and creative director of the luxury e-commerce platform Showroom-X describes Zampatti as "a woman of strength and substance", adding that "she stayed true to her style and design philosophy while still remaining relevant to the market and seasons".
Zampatti's passing also stirred ruminations on the notion of legacy. It is clear she connected with audiences beyond the digital realm, and Atkinson says that's exactly what Showroom-X shoppers want from a brand. "Legacy is what the 2021 customer is looking for now," she says, "a brand to invest in, not just sit on the sideline of the narrative. They want to deeply believe in what and who they are purchasing from."
So, among the growing number of collections calibrated for the TikTok generation — which flicks from one show to the next as quickly as if they were devouring Reels, feeds and Stories — what does it take to hold someone's attention and, more importantly, truly connect? In this age of individualism, what constitutes a meaningful fashion legacy?
Atkinson points to R.M.Williams. Founded in 1932 by Reginald Murray Williams, the brand has an aesthetic that could be described as Australiana writ large: functional, high-quality workwear and leather accessories that are inspired by the landscape. "R.M.Williams connects deeply to the authentic Australian lifestyle," says Atkinson, who formerly worked for the brand. "While paying homage to the adventurer, workman and countryman himself [Williams], it's also relatable enough to touch the hearts of the everyday Australian in multiple iterations. I don't think I've caught a plane without seeing at least half the men in R.M.Williams boots." Women, too. The company, which has been around for nine decades, now resonates globally, thanks to its savvy appointment of brand ambassadors, including Phoebe Tonkin and Hugh Jackman. "Our production milestones over the past year have been significant," says Michelle Hepworth, the acting CEO. "The brand has never produced more boots than it has in this year."
Storytelling pervades the products, giving new generations the opportunity to become part of something bigger than themselves. An emphasis on spirit and craftsmanship has also cemented the brand's legacy, and Hepworth is committed to preserving those shoemaking skills at its Adelaide workshop, while returning the manufacture of other categories to Australia. "Moving forward, we will be continuing to focus on Australian-made and building out our women's footwear offering," she says. "Leather is part of the brand's DNA and we are focused on also building out our leather goods and craft offering."
Meanwhile, far from the red dust landscapes and shearing sheds that are synonymous with R.M.Williams, racks of red carpet gowns sit beside razor-sharp suiting at the Sydney showroom of Alex Perry. The designer has cultivated a larger-than-life identity over nearly 30 years in the industry, but in spite of his success (including a lengthy roster of international luxury stockists) he still has a hint of imposter syndrome. He says he long felt like he was "swimming upstream" against the laidback aesthetic Australia is known for. "We are such a relaxed country in terms of fashion and style that my industry didn't really consider what I designed 'real fashion'," he says. "It struggled to find its place for the longest time."
The designer's take on sexy maximalism has nevertheless reverberated since 1992, thanks in part to some strategic maturation. "The brand was louder, initially," says Perry. "It's become stronger and quieter, but it has always been glamorous." Covetable, as well: where once his gowns appeared on the occasional Aussie starlet, you're now just as likely to spot them on the international red-carpet circuit, with Gwyneth Paltrow and Jennifer Lopez both fans.
The secret to the label's longevity? Myriad muses, for a start. "From the very beginning, the brand has always resonated with a diverse range of women — age, ethnicity, culture have always been so varied," says Perry. As for building a meaningful legacy, Perry says it's essential to kick ego to the curb. "Relevance, newness, excitement and desirability are critical," he says. "But you have to be able to step away from yourself, step away from your ego. Look at your designs as an observer, an outsider, and without emotion, ask yourself, 'Is it relevant, exciting, new? Is it amazing? Is it good enough?' "
Above all else, he says, labels need to be future-focused. "A brand's heritage is its DNA. Ignore the heritage and you take away its identity," says Perry. "But staying relevant is a conscious re-evaluation of design, the fashion environment, the needs of women, society and the world around us. I have respect for my business past, and past achievements, but I never look back. I'm firmly focused on what's next — the next celebrity, the next luxury retailer." He adds: "Fashion is always about the future."
For a brand with as much cultural resonance as Oroton, the temptation to look back is strong. The iconic accessories house was founded in 1938, meaning there's nearly a century's worth of archives to mine. However, much like Perry, the creative director, Sophie Holt, had no interest in rehashing the past when she joined the company in 2018. "At Oroton, we are very focused on respecting and protecting our brand heritage, however we are equally focused on a new legacy," Holt says, "to forge a path that reflects the changing face of fashion and demands of our customer in terms of a more sustainable approach through product innovation, operational progress and reducing the impact our industry has on the environment."
Holt was tasked with resuscitating the once bankrupt giant, a feat that has required creative clarification and brand modernisation. "Pressure to deliver is often a curse every designer carries with them," she says. "I prefer to channel a more positive headspace — learn from our past but remain progressively resilient and focused on what's next. We have a strong handwriting and a total dedication to detail. As long as these ingredients are present, we keep our eyes firmly focused on the future."
She has worked hard to build an infrastructure that will support Oroton through changing fads and circumstantial changes, including a Covid-era launch of the brand's international wholesale business and the staging of its first runway collection, at this year's Australian Fashion Week. "For Australia to be the first global location to host a physical fashion week since the pandemic began, it was absolutely the right time for our runway debut," says Holt of the presentation of summer- perfect ready-to-wear and accessories. She adds: "Oroton's heritage, growth strategy and social relevance are all inextricably linked, so the balance is dependent on progressive brand positioning moments." Participating in an event such as Australian Fashion Week not only reinforces a company's domestic presence, it can also boost its international growth. "We are very lucky to have a brand with such rich heritage and equity in Australia," says Holt. "The challenge is now to share it with the rest of the world and make it globally relevant."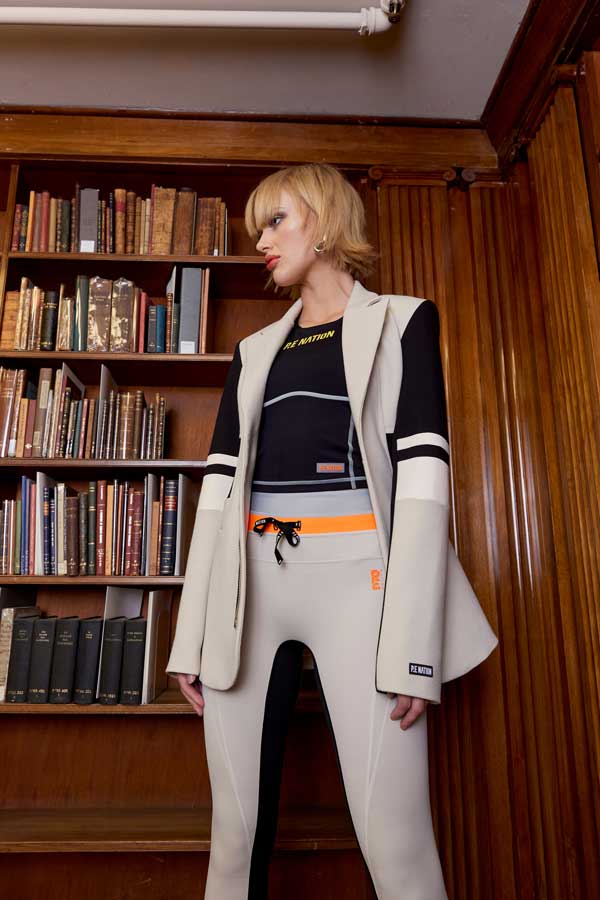 For emerging creatives who hope to generate a loyal following like Oroton's, Holt says they must concentrate on the things they truly excel at, rather than those they're simply good at. "Avoid going too wide. Be clear on your vision, establish your handwriting, understand who you want wearing your collection," she says. From there, "diversify, innovate and have fun".
The importance of innovation is echoed by the cofounders of the activewear/streetwear brand P.E Nation. Launched five years ago by long-time friends and collaborators Pip Edwards and Claire Tregoning, it now boasts 55 staff and is sold in 50 countries via 600 touchpoints around the world. "We never thought we would be this big, this global and this fast," says Edwards. Athleisure has rapidly morphed into Australia's unofficial out-of-office uniform — a national market worth $3 billion, according to the research group IbisWorld. With its signature splashes of neon orange, pink and blue, P.E Nation offers customers bold, nostalgia-laden alternatives to the softer colourways of, say, the multinational incumbent Lululemon. In addition to channelling their own lifestyles to shape each collection, P.E Nation's founders say they "design performance-wear through a fashion lens, drawing inspiration from runways and '90s streetwear".
In the survival-of-the-fittest ecosystem that is designer sportswear, commercial longevity requires a sturdy foundation. Edwards says it begins with a connection to the community. "We ensure that we put people, planet and purpose as our No. 1 driver in the business, and that everything we do relates to everyday life," she says. "We adapt with the needs of today. We try to be in the now and are conscious of this and the reality of it — if you connect to that, you'll always be relevant." Tregoning seconds this: "We talk real talk, in real time, to our audience. We are in tune."
Instagram's Gargaro characterises this as "digital resilience". She says: "Standing still is not an option. It's important for brands to learn how to be constantly reading the room and adapt their heritages to the ongoing changes." As for P.E Nation's legacy? It's simple: the two designers just want to do better. The aim, Tregoning explains, is "to create a fashion-forward activewear range that services many sporting activities and disciplines, while also having fashion credibility and social responsibility". The ultimate goal, she says, is a "better, more sustainable way of life".
While strategy certainly helps, there's also something to be said for going with one's gut — for some designers, success comes from seizing on a feeling and seeing how far it takes them. It's an approach taken by the Sydney-based multihyphenates Gareth Moody and Maurice Terzini, the cofounders of Nonplus, a brand they describe as a "human union". Moody (of Tsubi/ Ksubi, Chrønicles øf Never, Non-Type) and Terzini (Ten Pieces, Icebergs Dining Room & Bar) launched their debut collection of fluid, surf and punk-inspired menswear at a 2021 Australian Fashion Week show overlooking Bondi Beach.
To understand the brand's identity, you need only look at its cofounders: Moody and Terzini say they design wholly for themselves. "We really don't want to produce anything we probably both wouldn't wear," says Terzini. The result is a collection of soft suiting, leather separates and muscle tees. "The beauty of this project is it's an evolutionary process and we're feeling it out as we go," says Moody. "Of course, we discuss and plan for the future, but we like the idea of taking it as it comes and letting it unfold naturally."
Don't let the wait-and-see attitude fool you — the founders have grand ambitions for Nonplus. Rather than designing collections that reflect the culture, they intend to create it. The vision, according to Terzini, includes "everything from great, epic parties to the development of other mediums such as crockery, glassware". He adds: "We are currently working on a range of pre-batched drinks and minimal intervention wine that will reinforce our cultural values." From retail and apparel to food, art, design and music, Nonplus represents nothing less than a vision for life.
A version of this article appears in print in our third edition, Page 92 of T Australia with the headline:
'Architects of Desire'
Order a copy | Subscribe