There has come a time during every meal I've had at Sardine Dining in Paynesville, Victoria, when I look around and remind myself that the chic room and pretty plates of flavourful little fish are not in Melbourne's Fitzroy or Sydney's Surry Hills, but deep in Gippsland, almost four hours' drive from Melbourne. There are upsides and downsides to this. I prefer restaurants with a firm sense of place, and while the view of Paynesville's shimmering waterfront through the front windows is a bit of a giveaway, this feels like a slick urban restaurant. There's also the pesky problem of it being too far from my house for me to eat here anywhere near as often as I'd like.
But it would be wrong to complain that there's no Gippsland to Sardine, because the restaurant's menu is one concise love letter to the region and its bounty. Ever since Mark and Victoria Briggs opened this ambitious little eatery in this small lakeside town in 2017, their main goal has been to promote the produce — especially the seafood — of the Gippsland Lakes region.
"There is seafood here in abundance that no-one's ever wanted before," Mark says. "When we first arrived and told the fishermen we wanted sardines, people said, 'Why would you buy that? That's bait.' Four years later and people come in specifically for the sardines."
These fish are joined by abalone from Mallacoota, octopus from Lakes Entrance and the tiny whitebait that can be pulled out of any of the Gippsland Lakes. Many dishes on Sardine's ever-changing menu are adorned with vibrant red and green pigface, a succulent that sprawls along the shores of those lakes.
The honey on a crispy zucchini flower stuffed with goat's cheese is from Raymond Island, which you can see across the lake from Sardine's front windows. The restaurant's namesake fish is ultra-fresh, hand-filleted and served simply, with oil and a few seasonal garnishes, allowing its deep, oily taste to shine.
Mark is originally from Croston, England, but he fell in love with Paynesville when his mother-in-law moved there from Melbourne. "When we opened, people asked us how we were going to survive the winter," he says, acknowledging that much of his business in summer comes from tourists from the city. "But the locals have supported us from the beginning. They understand that in summer, we'll have a lot of visitors from Melbourne, so they wait and come in the winter."
In November of last year, the couple opened Sardine Cantina, a wine store and bar just one door down from Sardine. The menu is simple: no cooked food, just cheese, charcuterie, and — of course — tins of sardines.
Local producers are the focal point at both the restaurant and the wine bar. A selection of fantastic beers from Sailors Grave Brewing in Orbost is always available, as are some lovely Gippsland wines. But other regions and countries are well represented, too. "For the locals, they could drink Gippsland wines every day," Briggs says. "They may not have the option of a great Chablis. So we want to offer both."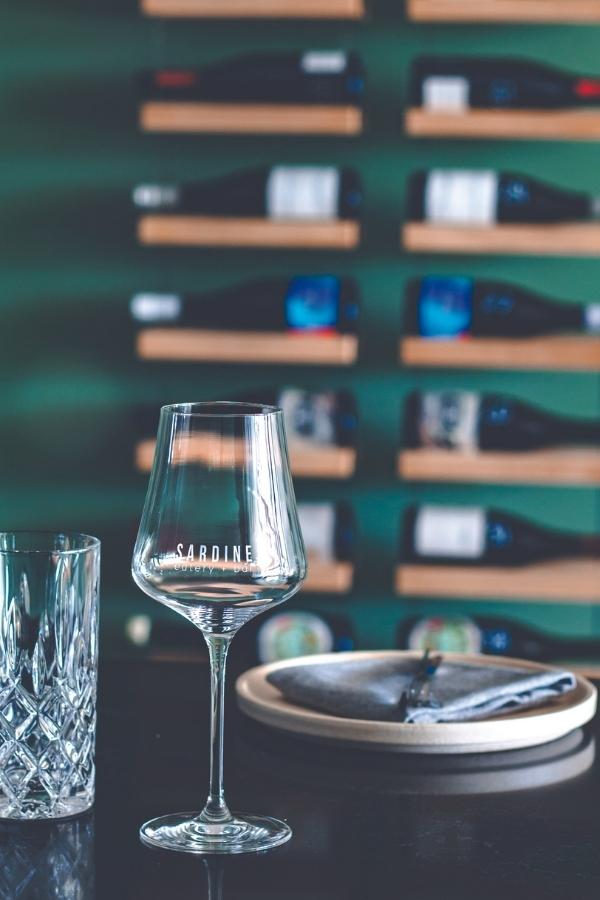 Often one of the biggest struggles for regional restaurants is finding appropriate staff, especially servers and other front of house workers. Many recruit from the cities, but Victoria, who runs the front of house, has taken a different path. Most of the waitstaff are local young people, who start at the restaurant as soon as they're allowed to work and are trained from the ground up. And yet their professionalism and poise are fantastic. This is a great sign for hospitality and its potential to bolster the economy of regional Australia — by providing training and career opportunities to local kids who might not otherwise have that option. Sardine proves that when it's done right, it's a beautiful thing to behold.
Back in November, the celebrity chef Adam Liaw tweeted his wish for Australia to take a page from Japan's book in terms of promoting the foods of its regions. "In the 1960s, the Japanese government started a 'one town, one dish' initiative encouraging local areas to develop regional foods to boost domestic tourism," he said. "Sixty years later and domestic tourism in Japan is incredibly strong. Would love to see something like this in Australia."
Regional Australia is undoubtedly the next great frontier of our country's dining scene. A perfect scenario would be for each region to seize on what's unique about the ingredients of the area and build a dining culture around those gifts. What I'd hate to see is the city-fication of our small towns — with so many people moving to the country, it would be easy for a kind of mass gentrification to take place, one in which any restaurant or cafe or bar in any town might as well be in Fitzroy or Surry Hills.
Sardine is a model for a middle ground, one on which something distinct can be built. Mark and Victoria have brought the best of the city — the urbane feel, the professional service — and melded it beautifully with food that is wholly of its place.
The Facts
Address: 3/69 Esplanade, Paynesville, Victoria
Website: sardinedining.com.au
Contact: [email protected]
Must-try dish: Hand-filleted sardines
Hours: Open for late lunch, from 2pm, Friday and Saturday; and dinner, from 5:30pm, Tuesday to Saturday
Cost: Sharing plates, $12–$50; four-course shared tasting menu, $90pp; degustation, $125pp
Need to know: Bookings recommended
A version of this article appears in print in our fifth edition, Page 46 of T Australia with the headline:
"Swimming Upstream"
Order a copy | Subscribe