You don't need to have been born in New York, or even to have lived here very long, to be a real New Yorker. All it takes is a certain passion for this improbable, impossible, mythic city — especially when it's hurting. Since the pandemic hit, Linden Pride and Nathalie Hudson, the Australian owners of Dante, the acclaimed cafe and cocktail bar on Macdougal Street, have sent roughly 4,000 meals to help feed hard-pressed staff at New York hospitals, all of them paid for by Dante itself with the help of contributions from its patrons. On some days, the couple pack up their car themselves and drive food as far uptown as Columbia University Medical Center.
Hudson and Pride, both in their late 30s, are from Sydney and have always loved New York. For years they visited; on 9/11, they wished they were in town to help out in person. Finally, by 2013, they were married and settled in the West Village, and in 2015, they bought the old Caffé Dante — a long-cherished Italian coffeehouse that dates to 1915. Beloved though it was, it needed sprucing up.
The furniture was worn, and the paint was peeling. Hudson, despite having a background in international law and not in design, got to work. She and Pride installed new pressed-tin ceilings, "as close in pattern to the originals," she says, and painted the formerly dark green walls cream to brighten the space. There wasn't much money for décor, so the couple brought pictures and a mirror from their own home. They found a glass-fronted liquor cabinet at an auction and hung black-and-white archival photographs of Caffé Dante in its earlier days, including one of Mario Flotta, the former owner.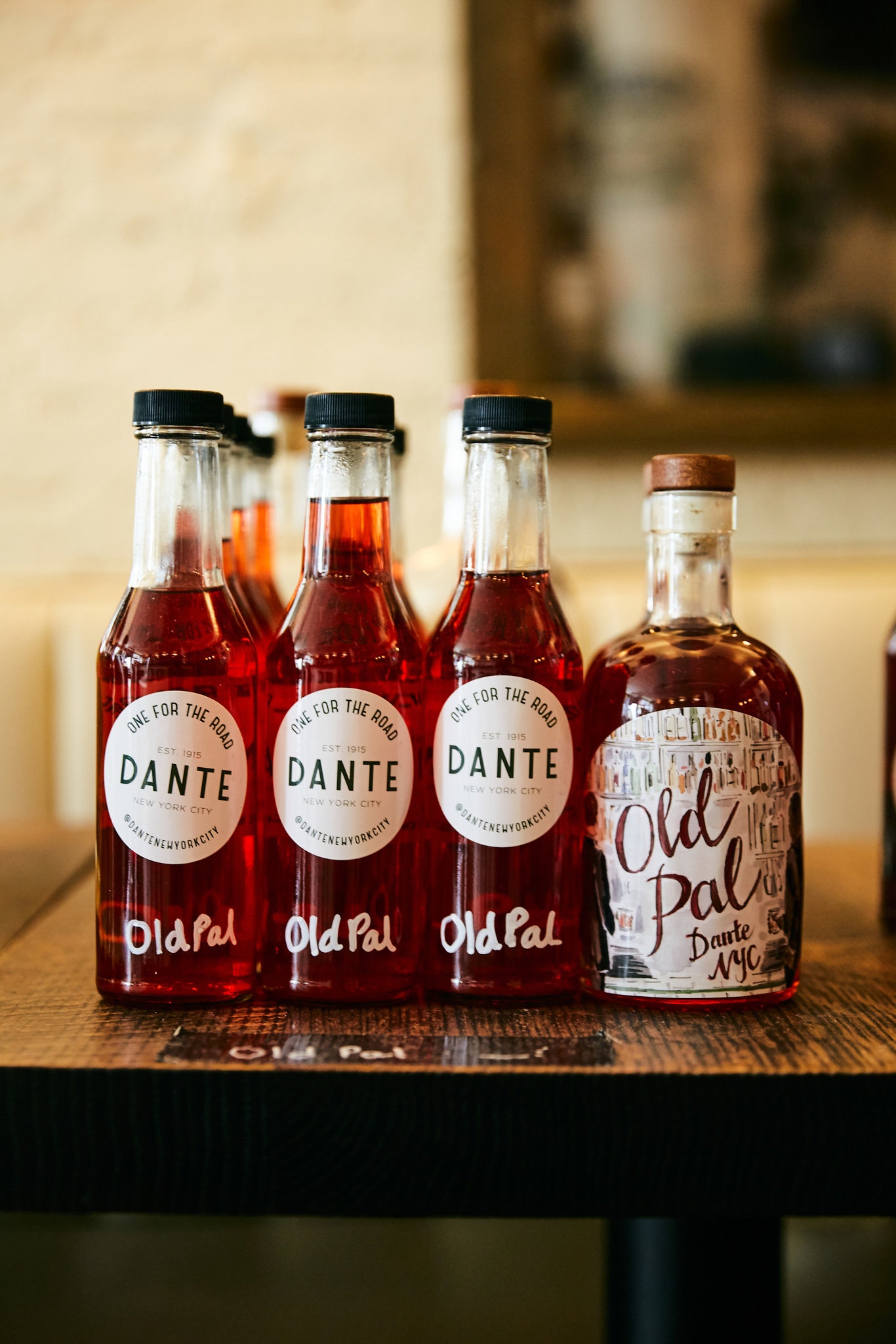 In the morning, the cafe — which Hudson and Pride rechristened Dante — serves good coffee, croissants and fresh banana bread, and for lunch, there are prosciutto and provolone or vegetable panini (all currently available for takeout). But it is most glamorous at cocktail time. Dante made its name with its drinks, which include martinis, Manhattans, Pimms, margaritas and spiffy variations on these classics. But the heart of the cocktail menu remains Italian; there are Negronis — some laced with strange but delicious flavors such as lavender or chocolate — Aperol spritzes, Americanos and Garibaldis. (I favor the Bicicletta — Campari, dry sparkling wine, Pellegrino — which resembles a gaudy sunset with its deep pink color and orange slice.)
Dante's opening, in 2015, coincided with a newly acute longing for la dolce vita among New Yorkers. "Around that time, it became especially trendy to go to Rome," says Melissa Middleburg, a young painter who lives near the cafe. "Everybody was crazy about the aperitivo hour." That enthusiasm resonated with Hudson and Pride, who were raised in Sydney, where many Italians settled after World War II. "Caffé Dante reminded us of the old coffeehouses we grew up with," says Pride. "It was the connection to community, the daily rituals that were so important."
At the back of the cafe, where Hudson has hung floral wallpaper, is the kitchen, in which the chef Angel Fernandez turns out very good pastas — spaghetti with fennel and peas, wild boar tagliatelle — as well as roast chicken and an apple tart with a perfectly flaky crust at lunch and dinnertime. He will also be the chef at Dante West Village, the couple's forthcoming seafood joint on Hudson Street where everything will be cooked on a wood-fire grill. It was originally scheduled to open the day the city locked down.
Hudson and Pride have had to adapt to survive during the past year. Not long after in situ dining at restaurants was prohibited last March, they began offering food — and, crucially, cocktails — for pickup and delivery. They made their drinks available in bottles of multiple servings or to-go cups for one, accompanying each order with a Dante coaster, a personal note and, on weekends, fresh flowers. Most days, a staggered line forms outside on Macdougal Street as people wait for their orders. But inside, the cream-and-green leather window banquettes remain empty. These seats, Hudson says, are usually "everyone's favorite and were once reserved for the widows of the Mafia that used to frequent Dante daily at 4 p.m."
It can be difficult to unweave Mafia fact from fiction (parts of "The Godfather" were shot nearby at Caffe Reggio in the early '70s). What is true is that Dante's origins are deeply embedded in the old Italian neighborhood. Between 1900 and 1914, roughly two million Italian immigrants arrived in New York, and by 1930, approximately half that number had settled in the city, many of them downtown in an area that stretched from Mulberry and Mott Streets in the east to Carmine in the west, south below Grand and north to Washington Square Park. Macdougal Street was one of the main thoroughfares where restaurants, shops and coffeehouses — including Caffé Dante — opened.
The earliest of the cafe's owners are now forgotten — many of its records were lost during renovations over the decades — but in 1971, Mario Flotta bought the place. It has survived through the years because of its cozy ambience, because you could sit here all day over a single espresso, and because it attracted the freethinking people who made Greenwich Village an area known unofficially as "America's Left Bank." By the 1910s and through much of the 20th century, Macdougal was home to artists, writers and musicians — people like Margaret Sanger, the mother of birth control, and Eugene O'Neill and Sinclair Lewis, who could often be found at the Liberal Club three blocks north. Hemingway and E. E. Cummings drank at the nearby Minetta Tavern.
In the '60s, Jimi Hendrix played at Cafe Wha? at 115 Macdougal, and Bob Dylan lived at number 94. By the 2000s, there were sports bars and comedy clubs and joints selling kebabs to N.Y.U. students and tourists. But traces of the old Italian neighborhood remain. On the same block as Dante is the red-sauce restaurant Villa Mosconi. Around the corner, on Houston, Raffetto's sells fresh pasta just as it has for over a century. And across Houston, on Sullivan Street, are St. Anthony's Church and Pino's, the butcher shop, which has sold Italian sausage and prosciutto since 1904.
Customers and staff at Dante seem to imbibe some of this old-Italian gusto and sense of family. "The people who work there really try to make you feel taken care of right from the first interaction," says Breanne Sommer, a bartender and food-book editor. "You don't get that kind of attention everywhere in New York."
I was born and grew up in Greenwich Village, lived there after college and only moved in the 1980s (as far south as SoHo). I've been passing the cafe for decades, sometimes stopping for a quick coffee at one of the street-side tables. When I first saw the new incarnation, I thought, "There goes the neighborhood, another landmark gone. No more espressos, no more memories, no more Signor Flotta to welcome you." I stamped my foot right into a muddy sludge of sentimentality — and also, in time, regret, because in fact the new Dante is more stylish, and serves better coffee and food and cocktails, than before. If you don't embrace change in New York, you can drown in nostalgia and misery. The city adapts, shifts, survives, and this is what makes it the town we love even as we miss what it once was.
On a recent walk, I found myself at Dante once again. The door was open, a board laid across it forming a makeshift table, and I ordered a coffee and a chocolate croissant to go. On the sound system was Buddy Guy followed by Elvis: music that made me want to dance on the sidewalk. Liana Oster, the bartender, sliced up a watermelon. "I'm thinking watermelon margaritas," she said from behind the bar, her face half hidden by a mask embroidered with the Dante logo.
Outside, the sun shone and the cafe chairs were stacked up; for the first time, I had a sense that maybe, in a month or two or three, I will return to sitting outside Dante, drinking an Aperol spritz and looking back on my life in Greenwich Village.