The appeal of plants in the home is no mystery. The greenery provides respite from our fast-paced existence and studies have shown indoor verdure can improve emotional and mental health. Millennials, apparently, are particularly passionate plant lovers, finding solace in nature as an escape from digital life.
Nursery industry statistics show that more than 2.2 billion plants, worth $2.6 billion, were produced and sold in Australia between 2019 and 2020 — a $200 million increase on the previous year. And according to the Melbourne-based creative director of the plant stylist The Plant Society, Jason Chongue, the love affair has only strengthened through Covid-19. "During the pandemic people have been turning to plants and homewares to make their homes their versions of an oasis. With spending more time at home, we are all wanting to find our moments of solace," says Chongue.
Through the popularity of indoor horticulture, a new career has emerged: plant stylists. More than a florist or a nursery, stylists evaluate a client's space, assessing a room's features like the décor, the directions the windows are facing and the quality of light exposure to provide expertise on transformation through flora. "Our role as plant stylist is to bring all the interior elements together with a palette of plants and considered planters," says Chongue. "The aim is to understand the architecture, interior and natural lighting on hand to bring greenery into any space, making our urban environment greener and more comfortable to live in."
The creative director of the plant design studio Plant Charmer, Ryan Klewer, says the work of a stylist is grounded in the classic principles of design, with the added element of accounting for the love and attention newly introduced plants need. "Unlike with interior design, I have to consider not only the client's wishes but also the plants': they have to get what they need to survive, so that's a very key consideration," says Klewer. "Plants are complex living things — they have needs — so a plant stylist should also understand horticulture, the same as an architect would understand building materials or a doctor understands human biology."
But why engage the services of a stylist? Surely a browse of a favourite plant influencer's Instagram and a quick trip to Bunnings would accomplish the same thing? Klewer says that while he encourages people to explore the natural world and experiment for themselves, stylists bring years of experience and knowledge. "Some people feel more comfortable with hiring someone like myself to hold their hand on that journey and broaden their thoughts as to how we can transform their space."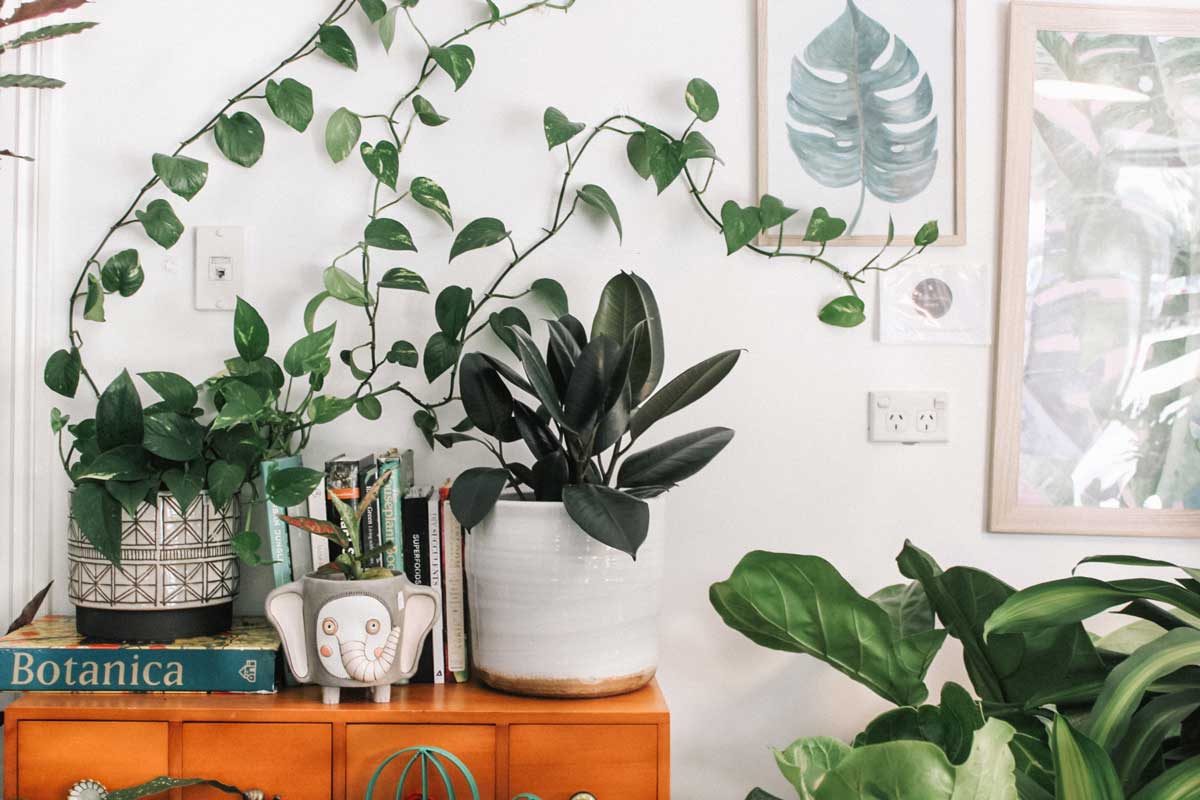 Chongue adds that having a plant stylist guide your horticultural expedition allows for a specialised approach that considers the plants most likely to thrive, provides advice on how to care for them into the future and even finds foliage textures that will complement your homewares. "Having a focused eye can help in seamlessly bringing your interior together and, most importantly, create atmosphere," says Chongue. A key part of the stylist's process is consulting with the client to learn about their space and develop a concept for the project to suit. Chongue says Plant Society concepts aim to balance plant atmosphere and plant health.
At Plant Charmer, Klewer works with both residential and corporate customers but described his average client as a small business owner or homeowner who wants to introduce plants into their space but is unsure of the best way to proceed. "When I'm engaging with a client, what I'm really trying to achieve is to create a beautiful balance in their space," says Klewer. "I love being creative with the concepts and I'm constantly pushing myself to create something unique."
The real advantage of outsourcing your houseplant decision-making to a plant stylist or curator concerns the sourcing of plants. Stylists have access to unique plant life, out of reach to most with a trip to the nursery. "Sourcing the plants and planters is actually the most time-consuming part of the job sometimes, as I go to great lengths to get specific plants," says Klewer.
A chance drive-by once led to Klewer to spot an "amazing" ficus on a front verandah that had outgrown its surroundings in suburban Melbourne. "I've always got an eye out for unique plants," says Klewer. "You can look at a plant and you can tell by the shape of the trunk, the dispersion of the branches, you can tell if it's really old or if it's grown in a place where it's struggled to reach the light. I think that the imperfections make it more beautiful."
Whether or not you employ the services of a stylist to create your own indoor jungle, the popularity of plant-filled spaces will continue to endure as a remedy from the artificial materials and products that have come to define so much of our lives. "With our cities developing, they are becoming more and more hard-surfaced," notes Chongue. "Incorporating greenery into these dense cities allows for moments when greenery can caress the hard edges and make living more comfortable."