Five years ago, at the San Telmo flea market in Buenos Aires, the New York-based interior designer Nicholas Obeid saw a midcentury chandelier in perforated red metal that he admired but didn't want to carry home on the plane.

A year later, he was still thinking about that chandelier and, on his next trip, he was surprised to find the $100 piece right where he'd last seen it. (Obeid's mother was born in Argentina, and he visits the country whenever he can.) Now rewired, it hangs in the kitchen of his Greenwich Village apartment, above a stainless steel baker's rack. "I saw something similar on 1stDibs for thousands of dollars," Obeid says. "Almost identical."
The fixture is emblematic of Obeid's approach: the designer, who's in his 30s, scours the globe — in person and online — for deals on well-made, unconventional vintage pieces. ("The objects I'm after have spirit," he says.) He then juxtaposes them with idiosyncratic furnishings in a variety of heavily textured materials ("silk, mohair, metal, glass, leather, wood, more wood, a different shade of wood, marble, shearling", as he puts it), within his own 53-square-metre apartment and those of his clients. Over the past five years, he's also designed dozens of his own pieces, reimagining everything from sprawling leather modular sofas to cement side tables to ebonised oak lamps and brass wall sconces.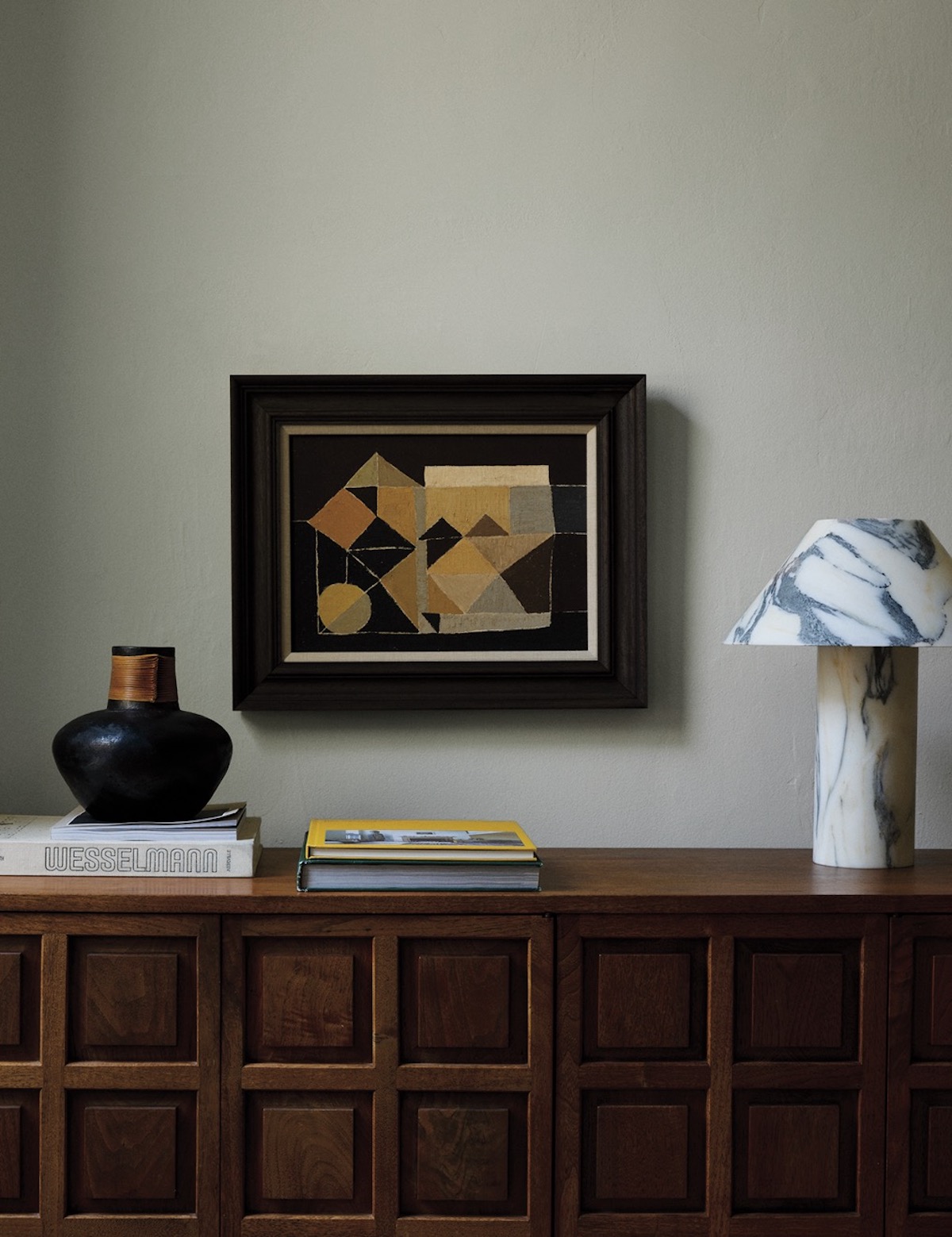 Often, he conceives of these while working out of his rental, which he moved into in 2020 and has since transformed into a calming refuge. Located on the third floor of a walk-up apartment block, above the poster shops and piercing parlours that fill the blocks just south of NYU, the compact space — the kitchen serves as a vestibule for the bedroom and living room — is united by a colour scheme of butter and walnut. In the bedroom, there's a whitewashed bespoke night stand made from bleached acacia wood. Above it hangs a framed 1975 charcoal drawing by the San Francisco Bay Area artist Laura Lengyel, the matting of which he had cut to mimic the lines of the tubular task lamp beneath it — another Buenos Aires find. The ivory-painted wall opposite the low, minimalist bed is blank. "My mind races," Obeid says. "I need serenity."
That sense of tranquillity extends to the seven-by-four-metre terrace stretching the length of the apartment. There's enough room for a dining table, which he often drapes in olive green linen and, near it, a sitting area with vintage wicker hoop chairs where he starts his day with coffee, he says, "reading in the dead quiet with the sun hitting me".
Obeid grew up in Troy, Michigan, where his father, a trauma surgeon, had emigrated from Syria for a medical residency. The designer recalls spending Sunday brunches — when his aunts, uncles and cousins would gather in his home for eggs and manousheh — immersed in design magazines and sharing his discoveries. 
After college at Michigan State University, Obeid turned a summer internship at the New York office of the potter and designer Jonathan Adler into a full-time job, in which he ran the creative services department and produced photo shoots. He stayed there for seven years; during his off hours, he created spaces for friends and family, before starting his own firm in 2018. The following year, he began working with CB2, which has since released more than 40 pieces of his furniture, lighting and objects.
Increasingly, his home has become a showcase for these works, too, positioned alongside his custom furnishings (a coverlet made from two different linens, one by the nearly 150-year-old Spanish textile house Gastón y Daniela) and vintage finds (the rattan settee on the terrace, which he found at a Michigan flea market during the pandemic). Every piece, he says, has meaning. "When you love your home, you are obviously happier," he adds. "You can go about your life with clarity and confidence."