On a video call from her Los Angeles home, Margot Robbie is talking about her production company's films, "Promising Young Woman" (2020) and "I, Tonya" (2017). Then she pauses and moves to get up. "I'm just going to shut the door because my husband's being really [expletive] loud," she says. That would be Thomas Ackerley, the British assistant director and now producer, whom she met on the set of 2014's "Suite Française".
Such is the life of a Hollywood star in these pandemic-y times. There are scripts and budgets to look over, plus Zoom calls and a couch-based publicity tour for her latest film, "The Suicide Squad", in cinemas in August — all while her spouse bangs away in the next room. With Covid-19 pushing back release dates in 2020, the Australian actress will appear in several movies this year, each requiring publicity. And in the midst of it all, LuckyChap Entertainment, the production company she runs with Ackerley and a couple of friends, is overseeing the rollout of two TV series: Netflix's "Maid", inspired by a memoir of the same name, and the second season of "Dollface", a story about rekindling forgotten friendships.
While Robbie has drawn acclaim for her production work over the past four years, she is still best known for her film roles, which have seen her steal scenes from Leonardo DiCaprio in 2013's "The Wolf of Wall Street", own the title role in "I, Tonya" and deliver crackerjack performances as the delightfully depraved Harley Quinn in the "Suicide Squad" comic-book movies. When discussing her approach to the craft, Robbie is both poised and animated. "You gotta commit," she says. "You cannot half-arse anything. That is my motto when I am on set. You have to commit 120 per cent — anything less than that ends up looking stupid."
As an actress, she is famed for her versatility, but has the sheer breadth of roles sometimes been difficult to handle? She confesses it hasn't always been easy: "Every character I've played requires something different. Some I feel I can slip into their skin a little quicker than others." Among the more difficult characters, Robbie points to the late actress Sharon Tate, whom she played in Quentin Tarantino's "Once Upon a Time… In Hollywood" (2019). "Sharon Tate wasn't a character where I felt like, 'I got this. This is an easy one,'" says Robbie. "It was more about what she symbolised: all the good things in the world. Light — light — was what I worked with most: how to feel light, how to exude light. How do you portray someone if the way they need to be portrayed in this situation is to be pure and innocent and delightful?"
Louder and more raucous roles are easier, she says. "I much prefer to scream and cry and shout. Someone did something bad to you and you feel mad about it — I can get there a lot quicker."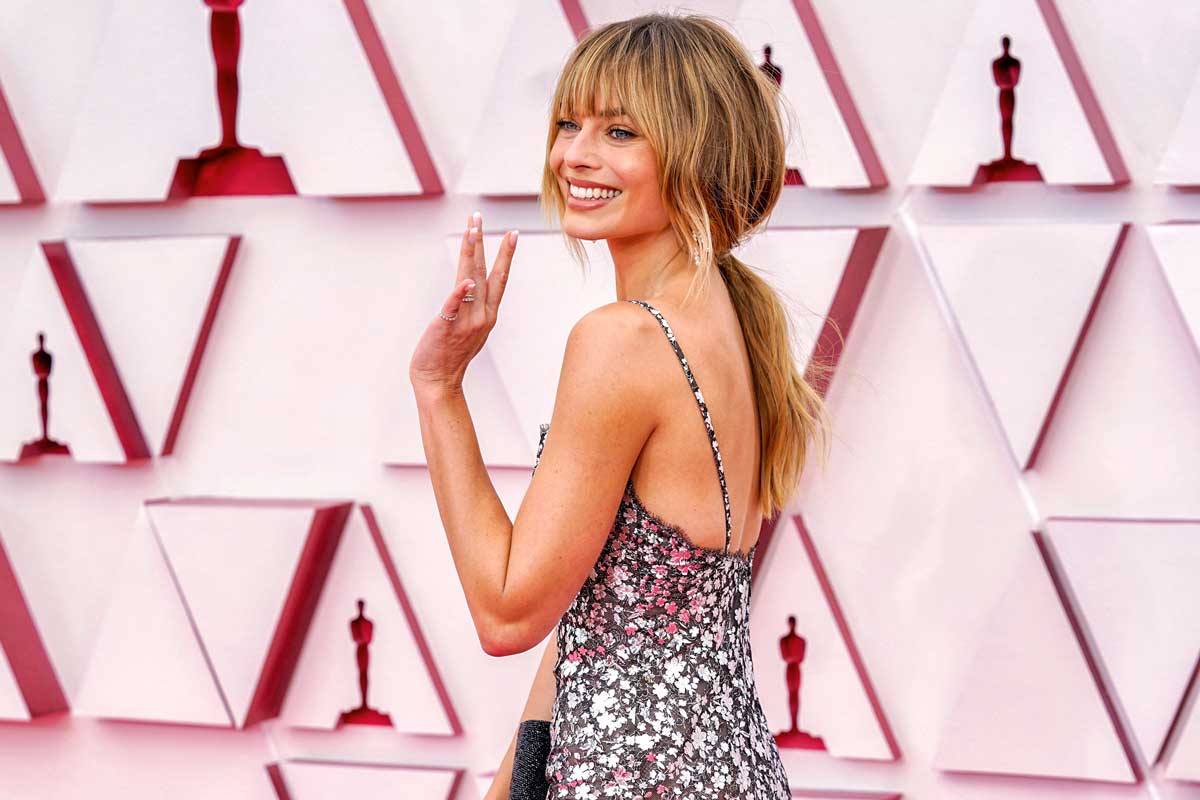 Robbie longs for home, having been kept away from her native Australia for much longer than she planned. "It's coming up for two years," she says. "There was the pandemic and before that I was on a film or two. I miss home so much." The 31-year-old hails from the Gold Coast, where she was raised by her mother, Sarie Kessler, a physiotherapist. Asked about the origins of her visceral connection to cinema, Robbie says: "I don't know how to explain it. My mum asks me all the time, 'What is it? Where on earth did it come from? It didn't come from our family!' " And her ambition, where does that come from? "I don't know. I don't know!" Robbie protests. "I wish there was a nice story."
She does remember coming across videos and DVDs in the living rooms of her suburban neighbourhood. "I saw 'Fight Club' when I was probably way too young to watch 'Fight Club'," she says of David Fincher's caustic deconstruction of toxic masculinity starring Brad Pitt. "I couldn't stop thinking about it for days and days afterward." This, she allows, could have spurred her preference for provocative films.
Robbie attended Somerset College in the Gold Coast hinterland and was cast in a local independent film while she was still at school. At 17, she moved to Melbourne and briefly worked on a children's TV show, "The Elephant Princess", alongside an unknown Liam Hemsworth. Then she landed a role on "Neighbours". It was a small job at first, playing a high-schooler (her name appeared at the end of the credits, just above the animal trainers) but she quickly rose through the ranks and stayed on the show for two-and-a-half years. In the meantime, she was honing her skills and teamed up with a dialect coach to perfect her American accent.
On leaving the soap in 2010, Robbie flew to the United States, arriving just ahead of pilot season. There, she immediately scored a role on a TV show — much hyped at the time — about air stewardesses working for Pan American in the '60s. "Pan Am" was cancelled after one season but it was enough to give Robbie her big break.
That would be a wound-up Martin Scorsese flick about a louche Wall Street scammer, played by an over-the-top DiCaprio. Robbie, clothed and unclothed, matches him scene for scene, all while nailing a honking Brooklyn accent. So, how did she pull off that sensational performance? Again, she points to her commitment. "I just go in hard," she says. "I go big. I have to go big to kinda be able to do it." From there, Robbie considered her prospects and gradually took on more difficult parts, playing a clever con artist opposite Will Smith in the film"Focus" (2015) and Queen Elizabeth I in "Mary Queen of Scots" (2018), which had Saoirse Ronan in the title role.
Not every film has been a hit. The ageing producer Jerry Weintraub chose Robbie to play Jane Clayton in his swan song, a long dreamed of Tarzan reboot, featuring Alexander Skarsgård. Released in 2016, "The Legend of Tarzan" wasn't exactly a flop, but it didn't find the audience to justify its expansive budget.
In 2019, her best year to date, Robbie starred opposite DiCaprio and Pitt in "Once Upon a Time…In Hollywood", which turned out to be one of the most acclaimed films of the year. Months later, she played a conflicted news producer alongside Charlize Theron and Nicole Kidman in "Bombshell", an unblinking account of sexual harassment at Fox News. For this, Robbie received her second Oscar nomination, for Best Supporting Actress.
Robbie is well known for her talent and beauty (the latter earning her several lucrative advertising campaigns) but while no-one was looking, she has also become a serious player in Hollywood's production industry. "To be honest," Robbie says of her work with LuckyChap, "the projects that we get very excited about are the ones that scare us — a lot. I find that in the roles I pursue as an actor and the projects we pursue as producers."
It all began as something of a lark, an impulse project she dreamed up in 2014 with her now husband and Josey McNamara, both aspiring producers at the time, plus a friend from Australia, Sophia Kerr. Their goal: to collaborate wth female directors and screenwriters to tell difficult stories about women. "They are provocative in a certain way, they are challenging in a lot of ways," Robbie says of LuckyChap's films and TV shows, which she approaches with a simple question: "How do you keep engaging people and keep pushing the conversation to a place where people don't have a quick and easy answer?" The idea, she says, is to get people thinking. "The longer we can having people doing that, then I do think that is moving the conversation forward."
For its first film, LuckyChap chose the confronting yet darkly comic story of Tonya Harding, the tabloid sensation who was the first American woman to pull off a triple axel in a skating competition. Harding, you may recall, became a household name in 1994 after her rival, Nancy Kerrigan, was brutally attacked in an attempt to prevent her from competing. The movie, "I, Tonya", gives Harding a chance to speak — sometimes directly to the camera — and finds a certain nobility in her belief in her own talents.
Robbie, who plays Harding, received rave reviews for her portrayal of a plaintive, desperate soul. She effortlessly navigates the demands of the part, roaring through the main narrative and tackling the campy, fourth-wall-exploding elements with aplomb. "It was fun working on those different levels," she says of the film's complex assemblage. "I see it as a person at different times in her life."
What could have been a low-rent docudrama became one of the most celebrated films of 2017, earning three Oscar nominations, among them Best Actress for Robbie (many prognosticators thought it had a shot at a Best Picture nod as well). Robbie's costar, Allison Janney, received a statue for Best Supporting Actress and Robbie was seen beaming from the front row. It was a significant success for her fledgling company.
In the meantime, LuckyChap was working on an even more audacious plan: to elbow its way into the conservative world of the comic-book film with an adults-only "Suicide Squad" offshoot (granted, inroads had already been made with 2017's "Wonder Woman" starring Gal Gadot and 2018's "Black Panther" featuring a mostly African American cast). The pitch: Harley Quinn is on the run in Gotham City and every lowlife in town wants to rub her out, so she teams up with an all-female band of malcontents and miscreants — all done in a hip, more knowing way than "Suicide Squad", with a lot of explosions, fights and blood-soaked set pieces in the offing.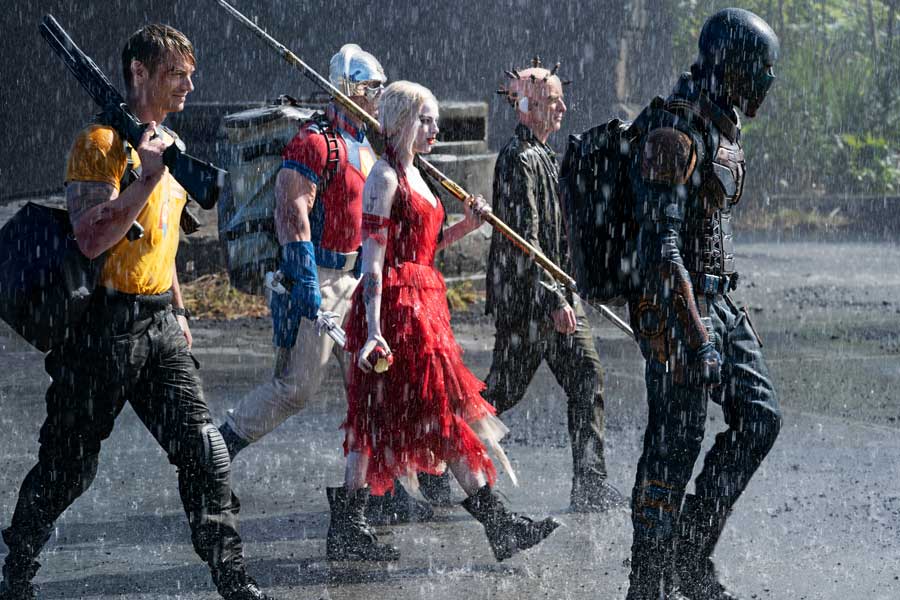 Unlike "Suicide Squad", "Birds of Prey" (2020) is light on its feet; it breaks the fourth wall and features an admixture of black humour that could be described as "Deadpool"-ish (work started on "Birds of Prey" before the adult comic-book film "Deadpool" was released in 2016). "It was an ambitious idea at that time do an R-rated comic-book film — 'Deadpool' hadn't been done yet," says Robbie. "The second thing I wanted was for it to be an all-female ensemble cast. I truly believe that women want to see female protagonists — " Kick arse? " — in the action space."
The vision took almost five years to realise. "I pitched it a long time before we got to shoot it — it was a long process," Robbie recalls with some weariness. She enlisted a female screenwriter, Christina Hodson, and director, Cathy Yan, and negotiated the complex, high-stakes world of the modern superhero franchise.
She again stars as Quinn in the film and gleefully takes to her character's appropriation of the random violence typical of male-centric comic- book genre. In an early scene, for example, Quinn, dancing on a platform in a club, spills a drink on an onlooker. After he tells her to get lost, she jumps off the platform — right onto his outstretched legs, breaking them.
"Birds of Prey" received appreciative reviews but its February 2020 release date coincided with the outbreak of the pandemic in the United States, and the film was resigned to the commercial woodchipper. It made just $270 million, but it proved LuckyChap could hold its own in the blockbuster game. "There are projects that mean to entertain in a meaningful way and interrogate at the same time," says Robbie. "And that always feels satisfying." Such was the case with LuckyChap's next film, "Promising Young Woman". Released last summer, it's another chancy, bleakly comic work rooted in female rage and the bloody consequences. Written and directed by Emerald Fennell, the film was critically lauded, receiving five Oscar nominations, including Best Picture, and winning Best Original Screenplay.
You kind of know you're in the right zone if it could go wrong. Does that make sense?" asks Robbie. With her next LuckyChap project, the actress is putting everything on the line. She'll play the lead role in a live-action Barbie movie produced and directed by the actress- turned-director Greta Gerwig ("Lady Bird", "Little Women"), who wrote the script with her partner, the director Noah Baumbach.
" 'Barbie' is ambitious," Robbie says, "in that it is globally recognised. There's 'eyes on it', if you know what I mean. I wasn't necessarily interested unless it was going to be a take that felt surprising and challenged preconceptions. I do really enjoy making things that genuinely surprise people, and I think that the script that Noah and Greta wrote does that. Barbie plus Greta — that, to me, is a home run."
After that, Robbie dreams of making a 10-episode TV series based on the plays of none other than William Shakespeare. Thus goes her elevator pitch: "Ten different Shakespeare stories in a modern or futurist setting, all different female writers and directors for every episode" — she pauses and laughs at the audacity — "and all shot in Australia, set in Australia and with Australian creatives."
That project hasn't got off the ground yet, but one imagines Robbie will approach it the way she always does: jump first, think later. "If I have more than five minutes to think about it, I'm going to just get too scared," she says. By way of example, she talks about her stunt work, where there's no place for overthinking. "Not committing is way more dangerous," she says.
If anything, Robbie commits too much. Like when she took ice-skating lessons for "I, Tonya", a role that required her to perform a high kick on the ice."I was not a skater! I was learning," says Robbie. "The trainer, she said, 'Alright, stomp on your back foot and just throw your leg up…' I thought, 'OK, that looks terrifying, I'm going to do that right now!'
"Stomp — kick — and I went flying back and winded myself on the ice so bad. I couldn't get my breath." It turns out, the trainer wasn't finished with her instructions. "What she was going to say was, 'You have to put your blade right there, like that, or you're going to go flying!' " Robbie says, laughing. "That is the tactic — fully commit."
Despite the pratfalls, Robbie says her wholehearted approach has got her where she is today. "I feel like I'm pretty good at finding my feet and adapting to a situation," she says. "I feel like I've found my footing; I feel like I'm on solid ground."
A version of this article appears in print in our third edition, Page68 of T Australia with the headline:
'Queen of the Silver Screen'
Order a copy | Subscribe